Emepelle Serum
May 24, 2020
Emepelle Serum – is the best skincare for menopausal skin. It is a silky lightweight fast-absorbing serum with breaking through anti-aging MEP technology – the first in the world innovation that non-hormonally restores the deficient of Estrogen in the skin before, during, and after menopause.
This results in significant anti-aging improvements including skin luminosity, hydration, firmness, and reduction of fine lines and wrinkles.
Dramatic changes could be seen in 4-8 weeks of use.
36ml
4 in stock
MEP Technology and Emepelle have been thoroughly tested in clinical studies by leading dermatologists.
MEP has been proven to deliver increase: in hydration – +54%, luminosity – +39%, firmness – +19%
Women experience Estrogen Deficient Skin (EDS) leading up to and during menopause.
Due to a decline in the Estrogen level the skin affected by menopause starts to show visible signs of aging.
Emepelle is the first and only technology for menopausal skin that transforms the skin by reversing aging process. While the advanced combination of cosmeceutical ingredients rejuvenates the skin, MEP Technology restores and rebalances the effects of menopause.
It stimulates and activates skin estrogen receptors – the optimum way to safely and effectively rejuvenate and restore the menopausal skin.
Key Benefits
Non-hormonally restores the deficient of Estrogen

Significant anti-aging benefits

Effectively restores the skin affected by menopause

Significant reduction of fine lines and wrinkle

Firmer, less wrinkly, smoother skin in 4-8 weeks

Tested by leading dermatologists

MEP- World's 1st breaking through technology
IDEAL FOR: Pre-menopause and During Menopause
SKIN TYPE: All Skin Types
Emepelle: Serum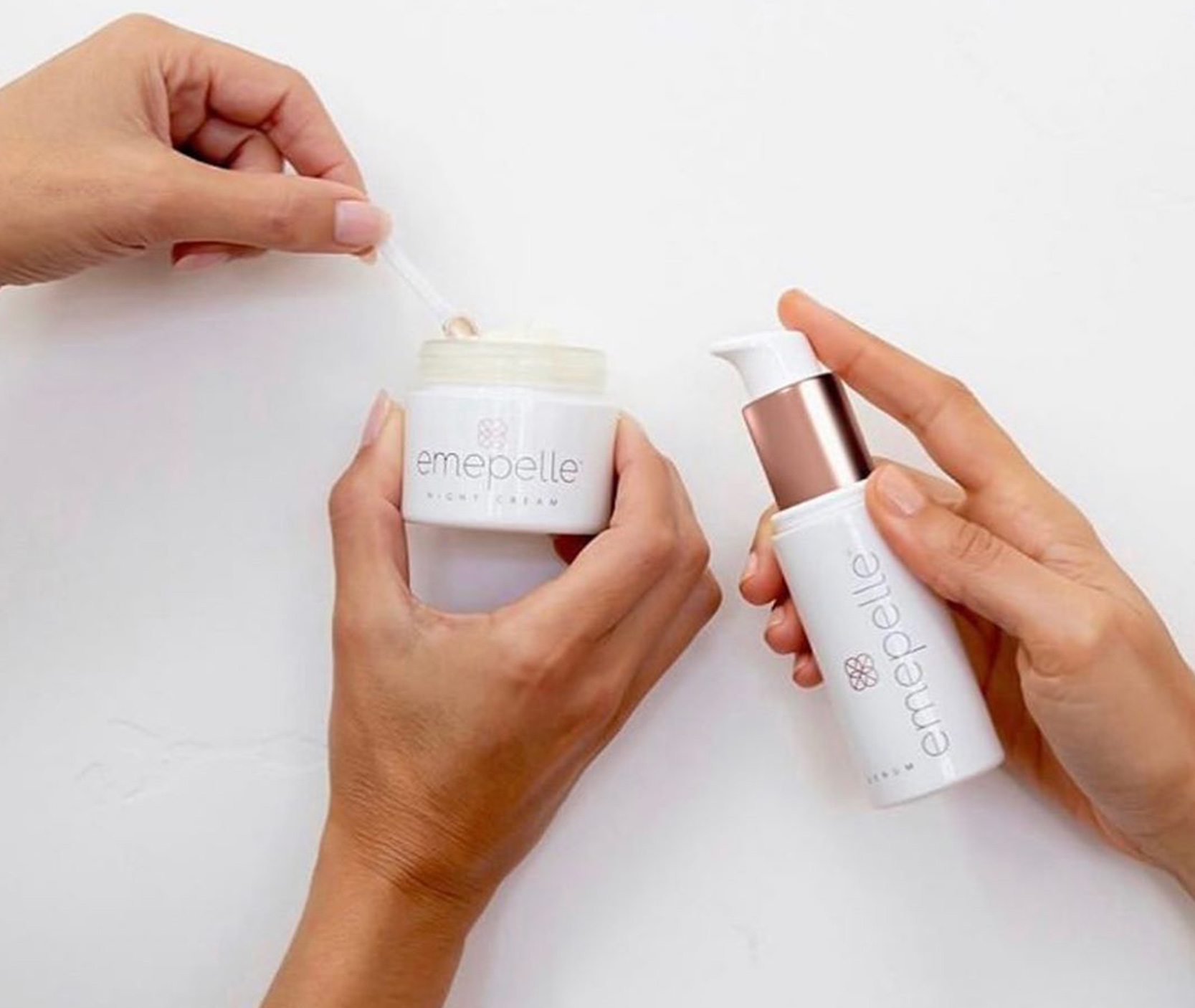 Key Ingredients:
MEP Technology™ 1%: Restores the natural function of Estrogen Deficient Skin.
Vitamin C, Vitamin E, and Ferulic Acid: A blend of antioxidants for powerful free-radical defense. It assists fibroblasts in the production of collagen, protects vitamin A against oxidation, assists the conversion of vitamin E back to its active form to prevent melanin formation.
Niacinamide 4%: Boosts barrier functions, evens skin tone and texture, brightens and smoothes the appearance of fine lines and wrinkles. It also provides additional antioxidant protection.
Peptides (Pentopeptide-28, Dipeptide-4, tetrapeptide-26): A blend of active peptides to combat oxidative stress and help improve the appearance of fine lines, wrinkles, and skin laxity.
Hyaluronic acid: Hydrates and plumps the skin.
Ingredients:
Water (Aqua), Dimethyl Isosorbide, Niacinamide, Butylene Glycol, 3-O-Ethyl Ascorbic Acid, Glycereth-26, Hydroxyethyl Acrylate/Sodium Acryloyldimethyl Taurate Copolymer, Methyl Estradiolpropanoate, Superoxide Dismutase, Glyceryl Caprate, Ferulic Acid, Glutathione, Pentapeptide-28, Tetrapeptide-26, Camellia Sinensis Leaf Extract, Sodium Hyaluronate, Dipeptide-4, Glycerin, 1,2-Hexanediol, Caprylyl Glycol, Tocopheryl Acetate, Phenoxyethanol, Potassium Sorbate, Sodium Benzoate, Disodium EDTA
Emepelle products are non-hormonal. Though MEP technology has been clinically proven to be safe, it has not been tested on individuals with specific medical conditions. If you're unsure if Emepelle is right for you, please consult with a licensed physician.
Apply evenly to cleansed skin in the morning, follow with sun protection
For optimum results it is recommended to use Emepelle Night Cream in the evening, Emepelle Serum - in the morning.