Pro-Heal Serum Advance+
May 8, 2020
Pro-Heal Serum Advance+
£72.00 – £122.00
IS Clinical Pro-Heal Serum Advance+ is one of the most effective products for multiple skin concerns. It contains a high concentration of powerful antioxidants and anti-inflammatory ingredients that treat acne and rosacea.
Having exceptional healing properties Pro-Heal Advance+ Serum effectively reduces facial redness and inflammation while offering soothing and calming relief. This potent serum is also effective for contact dermatitis and insect bites.
One of iS Clinical's highest level of antioxidant protection, this serum is ideal for people with sensitive, compromised and sickly skin types. Pro heal serum advance+ has an exceptional healing property and it bonds time released Vitamin C with a combination of botanicals to treat acne, rosacea, contact dermatitis and even insect bites.  It also offers soothing relief from radiation dermatitis.
Scientifically advanced stable Vitamin C (15%) has time-release technology for up to 72 h. It is combined with a superior form of olive leaf extract and pure vitamins A & E to provide maximum antioxidant protection. Zinc sulfate reduces inflammation while kojic acid prevents blemishes. This effective serum is an essential 'must-have' not only for Acne & Rosacea sufferers but also for sensitive and compromised skin.
Key Benefits
A MUST for all types of Acne and Rosacea suffers

Reduces redness and inflammation

Exceptional healing properties

Highest level of antioxidant protection

Effective for contact dermatitis and insect bites.
iS Clinical: Pro-Heal Serum Advance+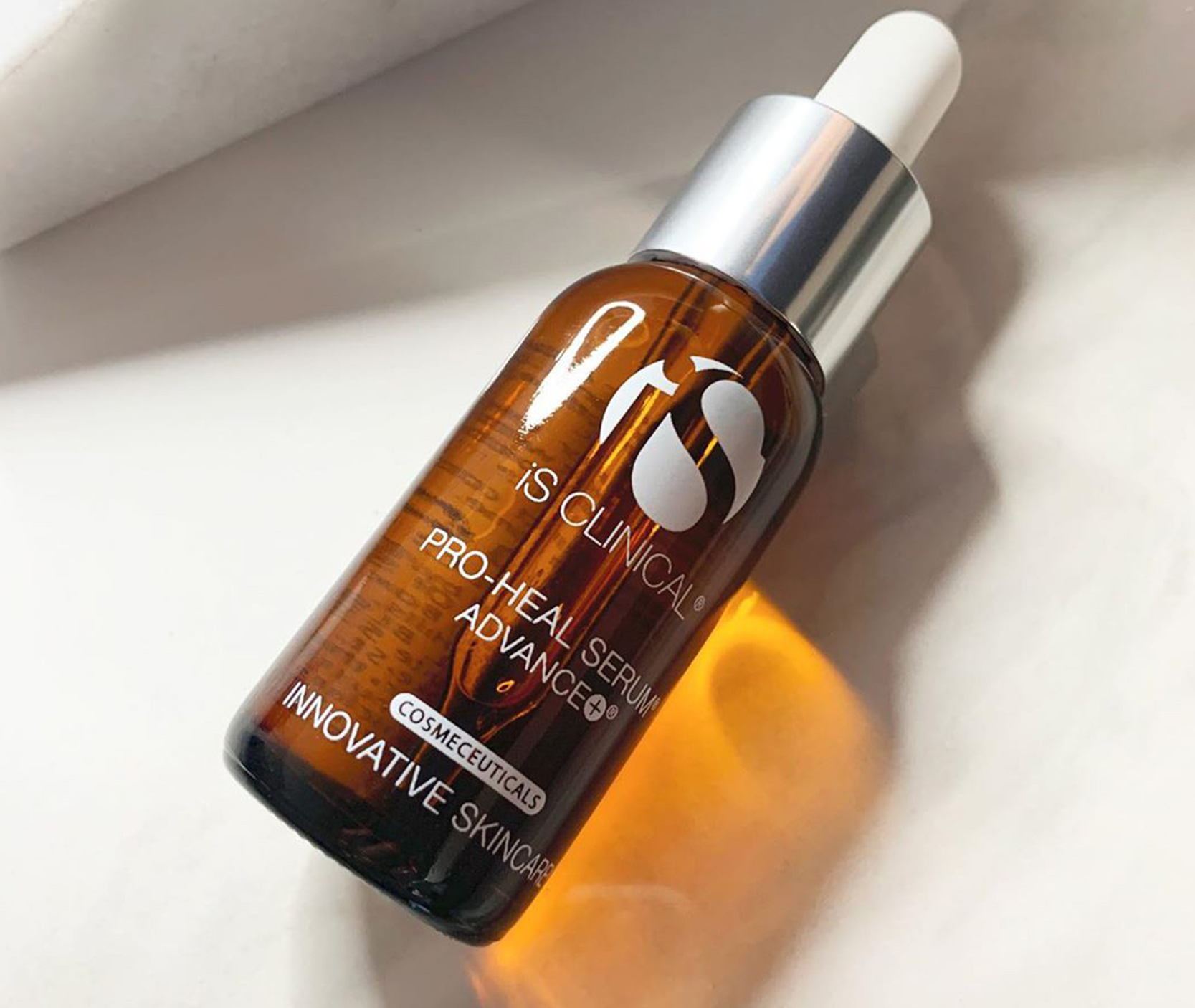 IDEAL FOR: Acne, Rosacea, Aging Skin, Red, Inflamed Skin, Sunburn Skin, Insect Bites, Contact Dermatitis and Scars.
SKIN TYPES: Oily and Acne-Prone SkinSkin, Dry Skin, Combination Skin, Normal Skin, Sensitive Skin, Mature Skin.
Key ingredients:
L-Ascorbic Acid (Vitamin C) 15%: A scientifically-advanced, stabilized form of Vitamin C with a time-release formula. It protects against photo-damage while providing calming properties.
Retinol (Vitamin A) 1%: Speeds up healing, prevents breakouts and supports the skin's immune system
Olea Europaea (Olive) Leaf Extract 0.5% – A natural antioxidant extract that helps to reduce redness. It hydrates and stimulates the growth of new skin. It also enhances circulation
Zinc Sulfate 0.5% - An antioxidant that has anti-inflammatory and wound-healing properties. Therefore, it works effectively in treating acne problem.
Arbutin 0.5% - A natural skin lightening agent that is commonly found in the leaves of fruits such as bearberry, pear and cranberry. It inhibits tyrosinase enzymes that produce melanin production.  Tyrosinase is basically brown spots that come from pigments that are produced in cells called melanocytes, which contain enzymes called tyrosinase. They can trigger anytime when they come in contact with UV light, which is why you'll notice freckles and sun spots starting to develop if you're frolicking in the sun too long. That's when arbutin comes in—it blocks tyrosinase and keeps dark spots at bay. Therefore, controlling hyperpigmentation.
Ingredients:
water/ Aqua/ Eau, Ascorbic Acid, Laureth-4, Alcohol Denat., Pentylene Glycol, Propylene Glycol, Olea Europaea (Olive) Leaf Extract, Zinc Sulfate, Tocopherol, Polyporus Umbellatus (Mushroom) Extract, Arbutin, Glycerin, Bioflavonoids, Retinol, Polysorbate 20, Phenoxyethanol.
Paraben-Free, Dermatologist Approved, Cruelty-Free, Vegan
Directions:
Apply sparingly to clean skin and smooth over face and neck. Use after cleansing and before moisturising or applying sun protection. Best used as part of an evening routine.