Goodbye Acne Box
September 9, 2020
Say goodbye to acne with the ultimate beauty box specifically designed to banish those blemishes. Discover our range of acne treatments and anti blemish & Acne skin care products designed to treat acne prone skin. This is the perfect starter kit in advanced skincare.
Advanced Nutrition Programme Skin Accumax (60 caps)
Osmosis Detox Deep Clean Cleanser (50ml)
PCA Acne Gel (29.5ml)
Osmosis Polish Cranberry Enzyme Mask (8 x 3ml)
£25 Value Facial Treatment Voucher
In stock
ADVANCED NUTRITION SKIN ACCUMAX
-
A skin-clearing supplement that helps to clear acne and blemishes (including hormonal acne), treats Rosacea and doesn't leave any dryness or flakiness.
OSMOSIS DETOX CLEANSER
-
Deep cleans the skin by removing dirt, makeup, and environmental toxins for brighter & smoother complexion. Removes dead surface skin without over-exfoliating or drying the skin.
PCA ACNE GEL
-
Fast-acting salicylic acid treatment that works to decongest the pores and shrink active blemishes. Oil-controlling botanical ingredients purify and clear the skin to prevent build-ups of spot-causing bacteria.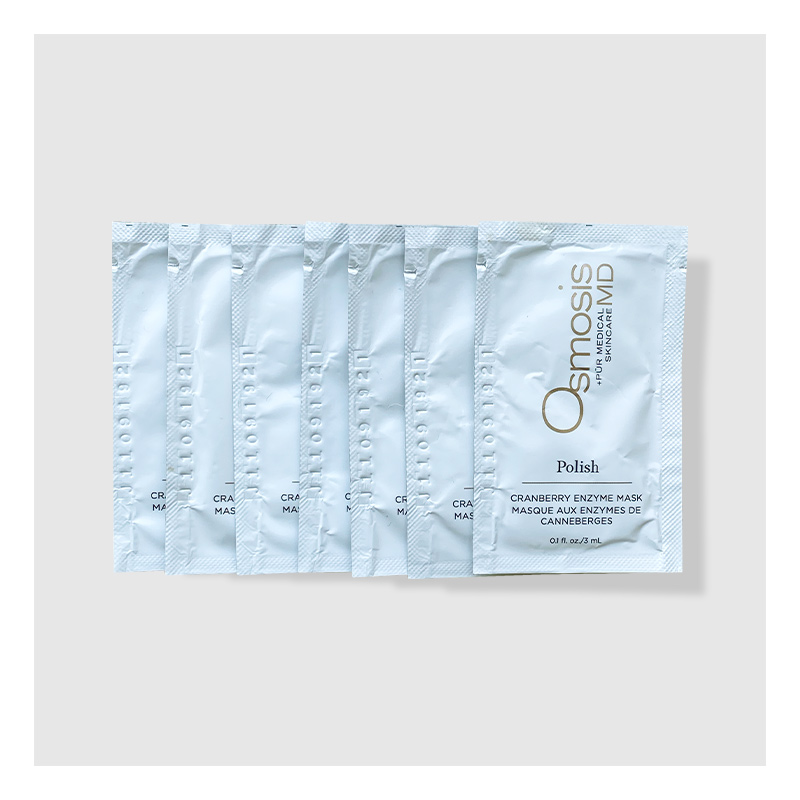 OSMOSIS POLISH CRANBERRY MASK
-
Packed with natural acids and enzymes that not only gently exfoliate but also nourish the skin, for a smoother and brighter complexion. Minimizes the appearance of fine lines and wrinkles.
Acne is a skin condition identified by clusters of blackheads, whiteheads and inflamed blemishes that appear on the face, chest, back, and shoulders. It forms when there's an overproduction of oil, bacteria and dead cells that clog the pores creating a 'plug' that blocks its opening. This then creates an environment for bacteria to multiply which leads to inflammations associated with blemishes. 
We've teamed up with the world's leading advanced skincare brands to offer you the most advanced achievements in the cosmeceutical industry all in one eco-friendly and sustainable beauty box.  Our clinically backed brand partners use pharma-grade quality ingredients and ground-breaking dermal delivery systems in order to achieve real and long lasting results. 
If you're searching for treatments to combat acne, you first need to know which ingredients are most suited for your skin, which is what you'll find in our beauty box. As acne-prone skin is often sensitive, it's important to use gentle formulas that won't irritate the skin further. Our products exclusively contain ingredients such as DIM, salicylic acid, vitamin C, hyaluronic acid and Vitamin A which sensitive skin can tolerate. They work by reducing oil production, cleaning your pores, shielding the skin from environmental aggressors and boosting natural cell turnover without stripping the skin. 
When it comes to the best treatment for acne, it is important to look for products that will make your skin better, not worse. The best place to start is with the dermoi Say Goodbye to Acne Beauty Box which contains an Acne Targeted Skincare Routine and Acne Facial Treatment, all delivered to the comfort of your home.
Step 1: Prevent Acne from Within
Research has proven that supplements add vital nutrients to your body which your skin needs to restore itself and stay in good condition. Our Hero Product Skin Accumax is a skin-clearing supplement boasting incredible results for skin that's prone to bad breakouts. It helps to clear acne and blemishes (including hormonal acne), treats Rosacea and doesn't leave any dryness or flakiness. It feeds every cell in the body so it can support all areas of skin including face, chest, back, and shoulders.
Step 2: Cleanse away the blemishes 
It's important to cleanse twice a day, in the morning and afternoon. The Osmosis Detox Cleanser deeply cleanses your skin, decreases pore size and controls breakouts, all whilst protecting the natural ceramide barrier. Perfect for preventing and treating acne. 
Step 3: Treat those pesky spots!
Once your skin is completely clean, it's important to apply creams and gels to target specific areas and prevent future breakouts. PCA Skin Acne Gel is a gentle Salicylic Acid fast-acting treatment that works to clear existing breakouts and blemishes, as well as preventing future breakouts. It also improves the appearance of post-acne pigmentation. This light serum delivers results without drying out or sensitising the skin and can be used for full-face or as a more targeted treatment.
Step 4: Mask on, Mask off
Now, you're at the fun part, it's time for a face mask. This impressive mask is packed with natural acids and enzymes that not only gently exfoliate but also nourish the skin helping boost a smoother and brighter complexion and minimize the appearance of fine lines and wrinkles.
Step 5: Enjoy a facial 
You've looked after your skin at home, now it is time to get a clinical strength facial – from the comfort of your own London home! Your at home skincare routine should be used to prolong the benefits of a facial, this means that you will see longer lasting results.
The Final Step: Embrace it!
Let's normalise spots and stop airbrushing our skin into oblivion. There's nothing wrong with pimples so don't let them knock your confidence #SkinEquality
Our Beauty Boxes are designed to be reused again and again. Whether you need beautiful storage or a decoration on your shelf, the dermoi! Beauty box is the perfect gift. Our boxes are made from a mix of recycled and waste paper and are 100% recyclable. All aspects of our packaging are eco-friendly; our bubble wrap is biodegradable and wrapping tissue is recycled and recyclable. Orders over £40 also receive a 100% degradable dermoi! tote bag which can be reused countless times to prevent plastic waste.
Key Benefits
Clears acne and blemishes including hormonal acne

Treats Rosacea

Removes dead surface skin

Decongests pores

Prevents future acne and breakouts

Effective on face, chest, back, and shoulders

Minimises the appearance of fine lines and wrinkles

Doesn't dry the skin
Ideal for:  Acne-Prone Skin, Blemishes, Oily Skin
Skin Type: All Types of Skin including Oily Skin, Rosacea, Combination Skin, Acne-Prone Skin
what's the deal?:  £150 of value for only £99!
Sharing is caring: 100% of the profit goes to charity.
We understand that acne can have a negative impact on your life and can be damaging to your self-confidence. Treating acne is often a long journey that can take its toll, but our aim is to get you to a place where you're happy with the way your skin looks. 
Our team of skincare experts are experienced and knowledgeable and will work with you to find the best possible solution for you. Our skin experts are passionate about improving and controlling your symptoms so you can live your life without worrying about your skin. We're here for you every step of the way.
Book a no-obligation consultation with an experienced acne practitioner to examine and discuss your acne. You can call us directly or request a call back.
This beauty box contains:
Advanced Nutrition Programme Skin Accumax - Ingredients:
Capsule shell (hydroxypropyl methylcellulose), bulking agent: tricalcium phosphate and cellulose, anti-caking agents: magnesium stearate and silicon dioxide, diindolylmethane complex (starch, diindolylmethane, vitamin E [as d-alpha-tocopheryl succinate], phosphatidylcholine, silica), vitamin C (ascorbic acid), vitamin A (retinyl palmitate), capsule colour: titanium dioxide.*BioResponse DIM®, licensed from BioResponse LLC. Diindolylmethane is an active nutrient compound identified in broccoli.
Osmosis Deep Clean Detox Cleanser - Ingredients:
Water (Harmonised Aqua), Glycerin, Sodium Hydroxypropylsulfonate Laurylglucoside Crosspolymer, Cocamidopropyl Hydroxysultaine, Sodium Coco-Glucoside Tartrate, Sodium Cocoamphoacetate, Sodium Cocoyl Hydrolyzed Amaranth Protein, Lauryl Glucoside, Citrus Sinensis var. Sanguine (Blood Orange) Oil, Cymbopogon Schoenanthus (Lemongrass) Oil, Santalum Austrocaledonicum (Sandalwood) Wood Oil, Citrus Aurantium Dulcis (Orange) Peel Oil, Citrus Limon (Lemon) Peel Oil, Citrus Grandis (Grapefruit) Peel Oil, Sodium Methyl Cocoyl Taurate, Sodium Lauryl Glucose Carboxylate, Sodium Cocoyl Glutamate, Sodium Hydroxypropylsulfonate Decylglucoside Crosspolymer, Gluconolactone, Butylene Glycol, Sodium
Osmosis Polish Cranberry Enzyme Mask - Ingredients:
Vaccinium Macrocarpon (Cranberry) Fruit, Water (Aqua), Lactic Acid, Glycerin, Caprylic/Capric Triglyceride, Gluconic Acid, Ubiquinone, Sclerotium Gum, Leuconostoc/Radish Root Ferment Filtrate, Hamamelis Virginiana (Witch Hazel) Water, Beta Vulgaris (Beet) Root Powder, Hydroxyethylcellulose, Benzyl Alcohol, Alcohol Denat., Fragrance/Parfum.
PCA Skin Acne Gel - Ingredients:
Salicylic Acid (2.0%), Water (Aqua), Alcohol Denat., Ethoxydiglycol, Azelaic Acid, Pentylene Glycol, Glycerin, Butylene Glycol, Extracts Of Cinnamomum Cassia (Cinnamon) Bark, Zingiber Officinale (Ginger) Root And Poterium Officinale (Green Burnet) Root, Hydroxyethylcellulose, Glycyrrhiza Glabra (Licorice) Extract, Potassium Hydroxide.
Step 1: Advanced Nutrition Skin Accumax
To get the full benefit of this product, we recommend taking two capsules twice a day with food for at least 14 weeks. After this time you may want to reduce to one capsule a day. 
Step 2: Osmosis Deep Clean Detox Cleanser
Apply to damp skin and lather. Leave the cleanser on for 1 minute before rinsing thoroughly. Use this product twice daily, in the morning and in the evening. For heavy makeup, it is advised to double cleanse. 
Step 3: PCA Acne Gel
After cleansing, use one pump as a spot treatment or use across the full face. It can be used twice a day. It is recommended to follow with a broad-spectrum SPF in the daytime and a light hydrator in the evening.
Step 4: Osmosis Polish Cranberry Enzyme Mask
Apply 1 pump of this product to clean damp skin and massage it in until it becomes tacky - then leave for 5-10 minutes. Then apply water and massage for another 2-5 minutes, before rinsing off with more water. For best results use once or twice weekly.
Step 5: £25 Off Facial Treatments
Enjoy £25 off any facial using the code BEAUTYBOX. Facials are available in London Zones 1-4 only. Facials can be booked here: www.dermoi.com