Eyes and Lips Contour Cream
June 14, 2020
Eyes and Lips Contour Cream
£39.95 – £57.95
Specifically formulated to tackle fine lines and wrinkles around the eye area and lips. It contains Hyaluronic Acid that deeply penetrates the skin, plumps expression lines and wrinkles from inside out. This results in 'dermal filler effect' while offering extra intensive hydration.
15ml.
Active peptides Hexapeptide-30, Tripeptide-38 and Hexapeptide-37 work on the skin's hydration levels. They promote gradual and progressive plumping and boost the production of collagen.
Fillerina Eyes and Lips Contour Cream comes in 3 grades. Each grade is differentiated by the proportion of smaller- to larger- sized HA molecules and concentration of active ingredients:
Grade 1 – suitable for moderate wrinkles and fine lines, minor signs of sagging around the eyes and lips area. It contains a higher percentage of larger-sized HA molecules to tackle more superficial signs of aging. It is an ideal treatment for early signs of aging.
Grade 2 – suitable for deeper wrinkles, noticeable fine lines, and loss of volume around the eyes and lips area. It contains a balance of both larger- and smaller- sized HA molecules and a higher concentration of active ingredients. It is ideal for aging/photo-damaged skin with moderate signs of aging.
Grade 3 – suitable for significant signs of aging. It includes deep wrinkles and fine lines, very dry skin, visible loss of volume and sagging around the eyes and lips area.
It contains the highest concentration of active ingredients and the percentage of smaller-sized HA molecules. That allows to penetrate deeper into the skin and tackle the signs of aging from inside out. It is ideal for mature skin.
Key Benefits
Contains 6 sizes of Hyaluronic Acid

Formulated for wrinkles and fine lines

Hydrates even very dry skin

Plumps volume and sagging of eyes and lips

Boost the production of collagen
Fillerina: Eyes and Lips Contour Cream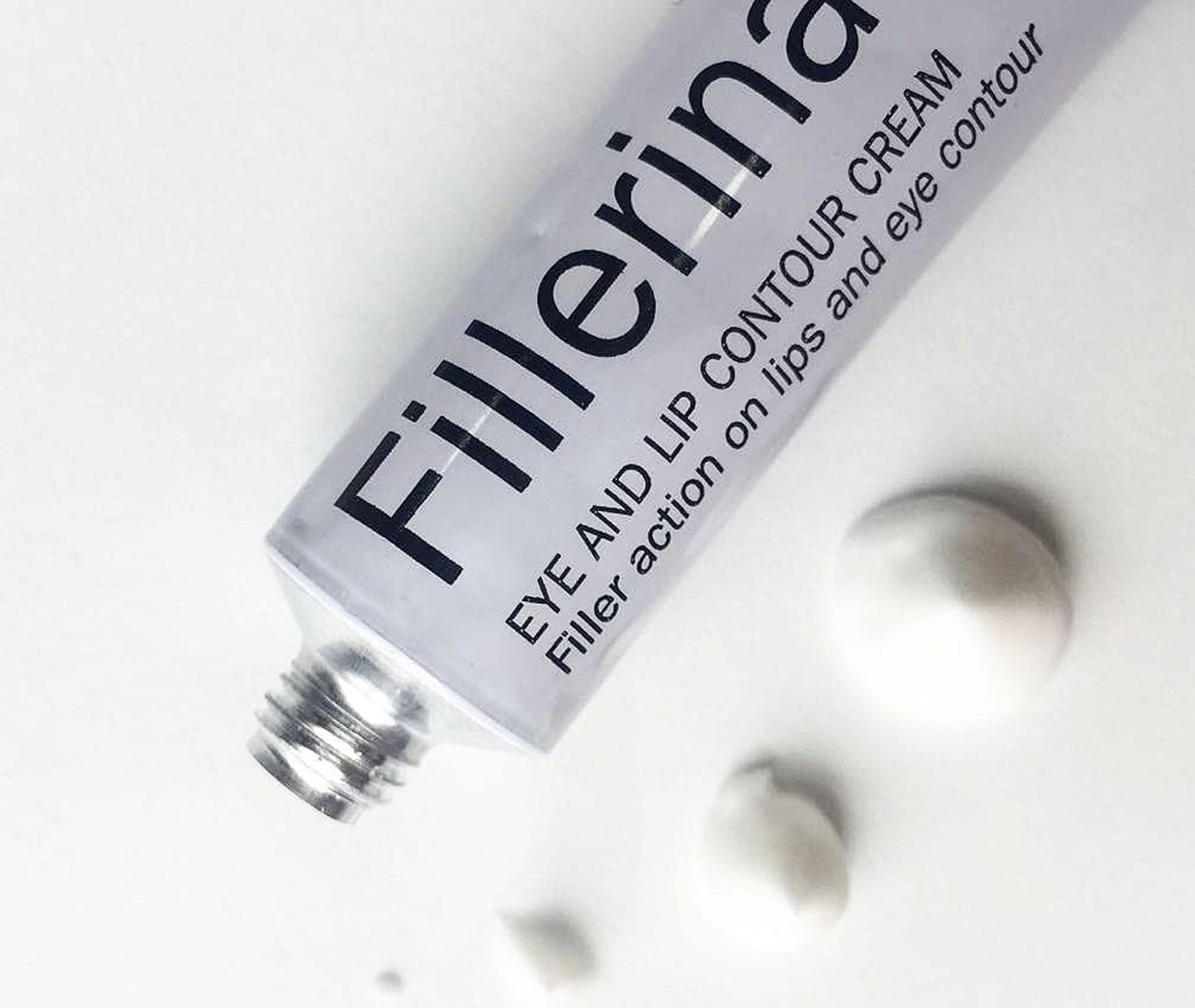 IDEAL FOR: All Signs of Aging, Wrinkles, Fine Lines, Expression Lines, Sagging around the Eyes and Lips area
SKIN TYPE: All skin types including Normal Skin, Aging and Mature Skin, Sensitive and Irritated Skin, Oily and Combination Skin
Key ingredients:
Hyaluronic Acid - a naturally-occurring substance in the skin. It is known for its capacity to attract and hold onto 1000 times its weight in water.
It also revitalizes skin so that it looks and feels softer, smoother and radiantly hydrated. This instantly improves the appearance of fine lines and wrinkles.
Hexapeptide - is a synthetic peptide made from a protein found in injectibles. It has water-binding properties and skin-restoring ability.
Tripeptide - penetrates deep into the dermis to boost the production of collagen
Ingredients:
Aqua, Ethylhexyl Stearate, Glycerin, Butyrospermum Parkii Butter, Steareth-2, Steareth-21, Hdi/Trimethylol Hexyllactone Crosspolymer, Cetyl Alcohol, Oryza Sativa Bran Oil, Prunus Amygdalus Dulcis Oil, Dimethicone, Phenoxyethanol, Imidazolidinyl Urea, Ethylhexylglycerin, Polyacrylamide, Tocopheryl Acetate, Hydrolyzed Glycosaminoglycans, Sodium Hyaluronate, C13-14 Isoparaffin, Propylene Glycol, Xanthan Gum, Parfum, Methylparaben, Ethylparaben, Pseudoalteromonas Ferment Extract, Laureth 7, Disodium EDTA, Silica, Butylparaben, Propylparaben, Cyathea Cumingii Leaf Extract, Butylene Glycol, Biosaccharide GUM-4, Limonene, Sodium Hyaluronate Crosspolymer, Linalool, Hydrolyzed Hyaluronic Acid, Hexyl Cinnamal, Hyaluronic Acid, Hydroxypropyl Cyclodextrin, Butylphenyl Methylpropional, Geraniol, Hydrolyzed Sodium Hyaluronate, Citronellol, Caprylyl Glycol, Arginine, Salicylic Acid, Sodium Hydroxide, Pentylene Glycol, Coumarin, Citral, Acetyl Hexapeptide-30, Palmitoyl Tripeptide-38, Acetyl Hexapeptide-37.
About Fillerina®:
Fillerina®has developed groundbreaking technology that features Hyaluronic Acid (HA) - one of the ingredients used in dermal fillers.
All Fillerina products contain from 6 to 8 different molecular sizes of Hyaluronic Acid. It allows HA molecules to penetrate all lawyers of the skin, from the surface down to the deepest layers of the dermis.
The smallest HA molecules weigh from 400 Daltons (atomic mass units). This small molecular weight allows the deepest penetration to layers of the dermis usually only accessible with injectables.
As the molecular weight of the HA increases, it penetrates to higher layers of the dermis and epidermis. By using a range of 6-8 different weights of HA, all layers of the skin can be targeted.
Directions:
Apply in the morning and evening to cleansed skin.
It is recommended to take two glasses of water before application.
Ideal to be used together with other products of Fillerina