Osmosis Beauty is one of the most trusted skincare brands globally. Found out why it's so popular, how it's different from other companies and why it's Dermoi approved.
Who Is Osmosis Beauty?
Since being founded in 2007, Osmosis Beauty has gone on to become one of the leading and most trusted skincare brands. They're the brand of choice for more than 5,300 professional dermatologists and doctors around the world.
They look at skin through a holistic lens. Osmosis Beauty goes way beyond the surface of our skin and use a unique philosophy. They dive into the root causes of skin concerns and work from the outside in to target and eliminate them.
They merge holistic methods with advanced skincare technology to strengthen and activate repair in our skin and bodies.
How is Osmosis Beauty Different?
Working with our skin-body connection, Osmosis combines the most effective detox strategies with non-toxic formulas and facial services to improve overall skin health.
They also have a unique range of patented ingredients that aren't found in any other supplements.
One of the most popular examples is their liposomal retinaldehyde, which has been clinically proven to stimulate collagen. Collagen breakdown is the leading cause of premature skin aging and wrinkling.
Most other skincare products focus on exfoliating the epidermis every day. This can be highly damaging and research has shown it can lead to skin sensitivity, susceptibility to sun damage, and dehydration. Osmosis products protect the skin's barrier and prevent damage.
They use repair technology, lipids, and vital proteins to strengthen the protective barrier while adding components that the skin desperately needs to repair itself. This is all done using pharmaceutical grade delivery systems.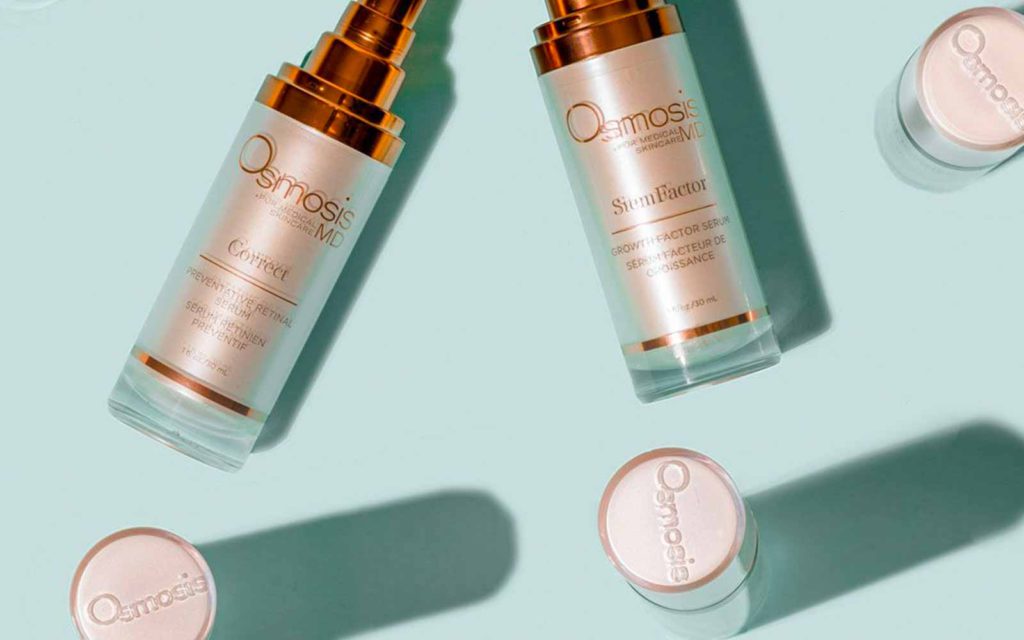 Osmosis Beauty and Liposomal Delivery
Osmosis Beauty uses a revolutionary Liposomal Delivery System. It's a relatively new way of transporting important substances and nutrients into the body effectively.
In skincare, essential ingredients can be wrapped in liposomes for better product penetration. These are tiny bubbles of phospholipids which shield, protect and deliver the supplements through the digestive system and into the bloodstream.
When swallowed the liposomes protect the supplements as they travel into your gut. This aids bioavailability and leads to better supplement absorption.
Osmosis uses Liposomal delivery methods to transfer key ingredients through the cell membrane and deeper into the layers of the skin. They use a liposome called phosphatidylcholine which has been found to increase product penetration by 600%.
What Makes Osmosis Beauty Dermoi Approved?
Like Dermoi, Osmosis Beauty aims to change the way that we treat our skin. They believe in empowering its innate ability to heal itself in order to create real and lasting results. These results come without compromise and without damaging the skin in the longterm.
Many skin supplements on the current market, use poor quality actives and are not designed for the environment in the gastrointestinal tract.

Osmosis Beauty supplements are formulated with high-quality ingredients to reduce inflammation and excess mucus. They also as eliminate environmental toxins that affect skin clarify, sensitivity, and aging.

They are also designed to be released in the gastrointestinal tract where it is beneficial to get maximum absorption.
Why Your Skin Needs Supplements
Everyday your skin is coming into contact with damaging environmental pollutants from toxins and UV rays.
Supplements help counteract this problem because they include powerful antioxidants, such as vitamin C and D. These vitamins boost the immune system and reduce oxidative stress caused by pollutants.
From around the age of 25 the natural aging process hits and our skin's collagen supply depletes. Our skin quickly begins to lose its supple and plump feeling as wrinkles appear.
While most of us believe that the foods we eat include all the necessary vitamins and nutrients we need, this isn't always the case. As our needs for food on demand increases, so does the amount of inorganic and processed foods which are lacking in vital nutrients.
Supplements help counteract this problem by replenishing the vitamins and nutrients our skin needs.
Dermoi's Favourite Osmosis Beauty products
Dermoi stock a wide selection of Osmosis skincare products. From eye serums and face creams, to detox cleansers, our scientific team has carefully reviewed the holistic skincare line to ensure that they're delivering the results that they promise.
Our current 3 favourites are:
The Osmosis Collagen Activator contains a variety of key ingredients to support the activity of cells, DNA repair, and to protect against free radicals.
It is a powerful formula that helps to reverse the signs of aging by utilising fat as energy to encourage cellular metabolism.
This not only supports healthy cellular activity all over the body, but promotes collagen production in the skin and this drastically improves skin health.
It's ideal for:
Skin aging
Premature aging
Energy
Fat burning
Support ATP formation in cells to boost cellular metabolism  
Enhances collagen protection within the skin  
Repairs cellular DNA with patented AC-11 technology
Powerful source of antioxidants  
Supports cognitive function
Maintains muscle tone and health  
Gluten-free and vegan-friendly  
The fast-acting supplement helps promote digestion by quickly breaking down fats, proteins and carbohydrates.
The digestive enzymes it contains enhance nutrient absorption and reduce toxicity for a healthier gut, as well as smoother calmer skin.
It's ideal for:
Aging
Acne
Blackheads
Rosacea
Digestive health
Acid reflux
Regulates digestion with fast-acting formula  
Contains a variety of essential enzymes 
Reduces bloating and uncomfortable digestive symptoms  
Restores radiance and luminosity to skin
Fights inflammation, acne, and rosacea
Gluten-free, dairy free, vegan, sugar free  
This is a 10-day blemish cleanse designed to clear skin and it gently cleanses the digestive tract of mucus build up.
A build-up of mucus in the body can cause digestion and congestion issues. It can also cause blemishes, blackheads, dullness, inflammation and rosacea.
It's ideal for:
Mucus
Acne
Blackheads
Congested skin
Candidiasis
Constipation
Allergies and sinus
Improves gut health by detoxing excess mucus  
Fights skin congestion and redness 
Reduces inflammation in the gastrointestinal tract 
Vegan and Gluten-Free