Facial treatments are often an advanced step in acne treatments. Many people who suffer from acne claim that certain skincare products do not treat acne effectively, and do not prevent further breakouts. Fortunately, with the rise of beauty tech becoming more and more popular, many clinics now offer state of the art facial treatments, aimed at treating acne at its source and preparing the skin to fight off future breakouts. This article will explore a collection of acne facial treatments and explain which might be best for your acne-prone skin.
Do acne facial treatments work?
A majority of acne facial treatments are best at treating comedonal acne. This is acne characterised by the common occurrence of whiteheads and blackheads. This is because many acne facial treatments help to exfoliate the upper layer of the skin, which aids in unclogging pores of bacteria and other toxins and helps to reduce the appearance of breakouts. However, as research develops, there is now a variety of facial treatments used to treat many types of acne and also reduce the sight of impurities that accompany them, such as acne scars.
Types of acne facials
There is a wide selection of cosmetic treatments for acne, all able to target different areas and problems. Here are just a few:
Firstly, Acne Blue Light Therapy is a specific form of LED therapy used to target the bacteria that cause acne breakouts. The exact wavelength of the blue light acts upon bacteria at a microscopic level, which helps to unclog the pores and reduce the frequency of breakouts. However, the results for this type of treatment are not instant and a regular course of Acne Blue Light Therapy usually runs for around 5 weeks.
Secondly, Lymphatic Massage uses gentle massage techniques to stimulate your lymphatic glands. As a result, this treatment will help to improve your immune system and wide health overall. Additionally, this treatment aims to strengthen your body's ability to fight off the bacteria that leads to acne.
Finally, one might decide to undergo Laser Treatment. This particular treatment uses a collection of small lasers to remove the upper layer of the affected skin, allowing a new layer of skin to shine through. Furthermore, laser treatment also helps to reduce the appearance of impurities such as wrinkles, redness and scarring.
Chemical peels for acne and acne scars
Chemical peels are often viewed as a superior treatment for acne as they offer an effective exfoliation treatment, helping to remove dirt, dead skin and other toxins from the pores. By removing these substances from the pores, this prevents harsh breakouts and keeps skin healthy. Also, chemical peels often use substances such as glycolic acid, which helps in boosting collagen production, giving you rejuvenated skin and reducing the appearance of acne scars.
iS Clinical facial peels for acne-are they best for blemish-prone skin and acne scars?
The 'iS Clinical Acne Healing Peel', currently available from Dermoi for £115.00, uses a collection of iS Clinical's biotically derived products to help exfoliate the skin and regulate oil production. These products contain active ingredients which help to eradicate existing acne and work towards preventing future breakouts. Moreover, this chemical peel uses an array of galvanic technology, ultrasound stimulation, LED light therapy and vibrating massage, which all help to increase cell turnover and reduce the sight of acne scarring.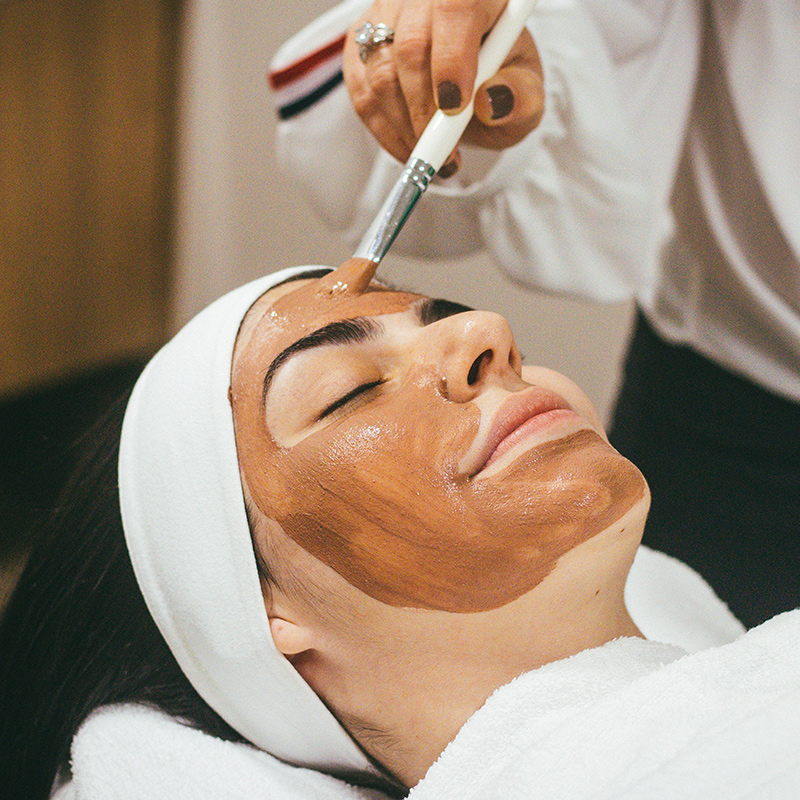 The benefits of Vitamin A in acne treatments
Vitamin A is a very powerful nutrient often found in common foods such as cheese, eggs and oily fish. This nutrient does wonders for our skin as it is a powerful antioxidant, which helps to neutralise free radicals that could cause harm to your skin. Topical sources of Vitamin A, such as retinol, help to repair your skin at a cellular level by increasing cell turnover and stimulating increased collagen production. As a result, this leaves your skin looking healthier and minimises the occurrence of breakouts. If your acne is becoming unmanageable, you may be prescribed a higher concentrate of Vitamin A, known as Tretinoin, which also helps to restore the skin and allow the less damaged skin to form.
Osmosis Acne Healing Facial Treatment
Dermoi also offers the 'Osmosis Acne Healing Treatment' from Osmosis Skincare for just £95.00. This treatment makes use of a wide range of Osmosis' products, which are scientifically developed to treat acne at its root cause. Therefore, your skin is able to gain a wellness boost as well as tackling skin problems like acne. This facial treatment combines active powders with 2% Vitamin A, to clear underlying congestion within the skin and restore the skin from harsh inflammation and acne scarring. Moreover, the 'Osmosis Acne Healing Treatment' exfoliates the skin, which helps to unclog dead skin and other toxins from the pores, allowing refreshed skin to be regenerated.
Dermoi acne facials – Which one is right for me?
As mentioned previously, Dermoi currently offers two facial treatments for acne-prone skin. The first being the 'iS Clinical Acne Healing Peel' (£115.00) and the second being the 'Osmosis Acne Healing Treatment' (£95.00). In order to decide, which is best for you, we must first layout the nuances between these two treatments.
Firstly, the 'iS Clinical Acne Healing Peel' is suitable for problem skin, acne-prone skin, inflamed skin and congested skin, giving you an advanced treatment against a variety of skin issues, including cystic acne. Moreover, the iS Clinical treatment only requires one session, giving you instant beneficial results. It should be said that this treatment is slightly more expensive, so please take that into consideration when evaluating your budget.
Secondly, the 'Osmosis Acne Healing Treatment' is more tailored towards oily skin, inflamed skin and those suffering from hormonal breakouts. Therefore, if you are looking for a more holistic approach to tackling skin issues, this treatment is perfect for you. The 'Osmosis Acne Healing Treatment' usually requires around 6 regular courses, making it a more intense treatment for acne and acne scarring. Obviously, this option is slightly cheaper per session than the former treatment, so maybe more applicable to those who are on a tighter budget.
Not to mention, both of these treatments are performed at your own home. Dermoi offers a wide variety of at-home treatments, allowing you to enjoy the luxury of a clinical facial in the comfort of your own environment. Plus, all beauty therapists are provided with high-end PPE for full coverage and COVID security.
Overall, facial treatments offer the best line of defence against acne and other skin issues, particularly due to their exfoliating nature and ability to safely combine a variety of powerful products. This article has delivered information on a variety of acne facial treatments, and also offered advice on a few of Dermoi's own treatments. So, why not try revitalising your skincare routine with one of Dermoi's at-home acne facial treatments?