Makeup is a great way to boost our self-confidence. Whether we are dressing up for our daily Zoom calls or just experimenting with a new look, there is no denying that these beauty products have revolutionised the skincare industry. However, makeup can have its downsides, most significantly on the quality of our skin. We can become sensitive to certain products or clog our pores with thick concealers and foundations, which can lead to harsh acne breakouts and other skin conditions. This article will offer advice and guidance on how to boost your skincare routine without the use of makeup.
Why is it so important to have a morning skincare routine?
An effective morning skincare routine can help boost the overall quality of our skin as well as help us maintain a blemish-free complexion. Morning skincare routines help us to prepare our skin for the day ahead, cleansing our pores and protecting the surface from harmful toxins that can build up throughout the day. Furthermore, if you do not have an effective night-time skincare routine, a simple morning routine can help to remove any impurities that have gathered upon your skin as you slept, helping to keep breakouts at bay. Adding on to this, a morning skincare routine is a great excuse to add in essential SPF, allowing your skin to be protected against dangerous UV rays that can penetrate your skin throughout the day.
Exfoliate regularly in your beauty routine
Exfoliation is an essential step in any effective skincare routine. By using an exfoliant at least once a week, you are able to remove any excess dead skin, dirt or oil from the pores, allowing your skin to become cleaner and clearer. At Dermoi! we offer a wide range of high-quality exfoliants that are all available on the Dermoi! online store. Here are just two of our favourite recommended products:
The 'Pore Refining Treatment' from PCA Skin is currently available for just £49.95 and offers 3 methods of exfoliation for smoother and clearer skin. This product uses rice powder as a way to remove dead skin and promote circulation. Adding on to this, the 'Pore Refining Treatment' also includes mandelic acid to promote increased cell turnover. Finally, this product uses papaya fruit enzymes to help the skin digest unhealthy cells. This product can be used up to three times a week and is the perfect way to improve your skincare routine.
Secondly, the 'Revitalizing Mask' also from PCA Skin. This soothing and calming mask uses Vitamin E and honey to hydrate and nourishes the skin, helping to create a radiant complexion. The 'Revitalising Mask' is also perfect for those with acne, as it helps to reduce the appearance of dark spots and acne scars. This product is currently selling for £49.95.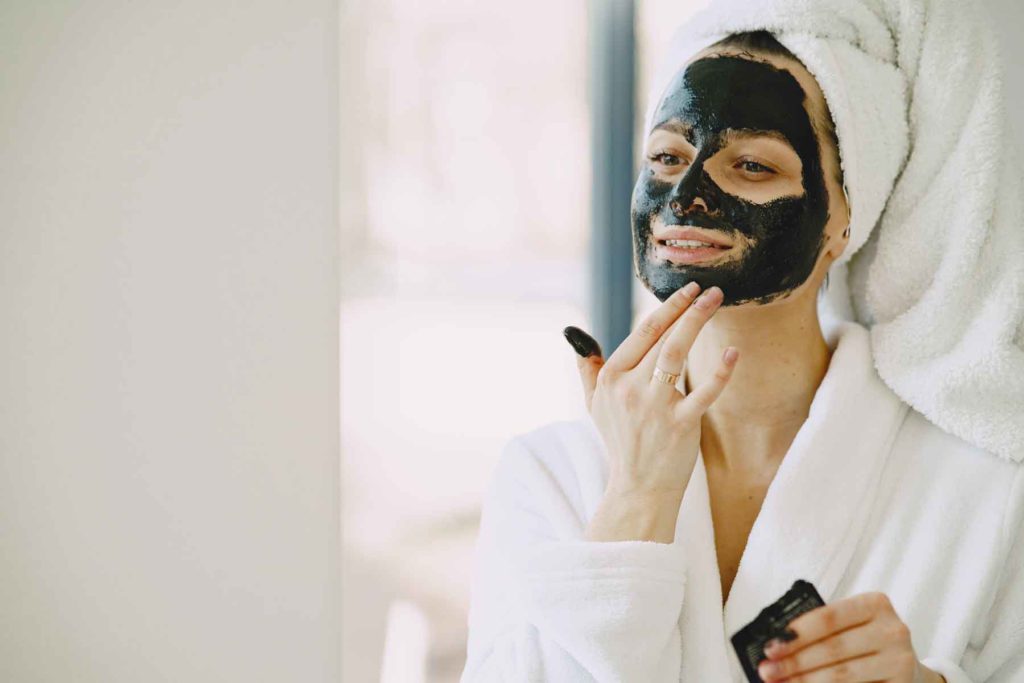 Don't skip moisturising in your skincare routine
A high-quality moisturiser is an indispensable asset to any effective skincare routine. Moisturisers help to hydrate and soothe our skin, helping us to retain moisture retention at a cellular level. Moreover, an effective moisturiser has incredible anti-aging effects as it helps to prevent the formation of deep wrinkles. Listed below are two of our recommended moisturisers, both of which are available on the Dermoi! online store.
Firstly, the 'HydraLuxe' from PCA Skin uses a range of botanical ingredients such as peony extract and chicory leaf extract to help the skin maintain its plump volume and strengthen the cellular structure of skin. Moreover, this powerful moisturiser incorporates snow algae to add hydration back into the skin. The 'HydraLuxe' is the perfect moisturiser for an anti-aging skincare routine and is currently available for £89.96.
The 'ReBalance' from PCA is a light-weight moisturiser that helps to calm and smooth the skin, giving you a more radiant complexion almost instantly. By using borage seed oil and evening primrose seed oil, your skin will become less inflamed and present less redness, making this product suitable for skin conditions such as eczema. The 'ReBalance' is currently selling for just £39.95.
How to add Vitamin C into your skincare routine
Vitamin C is a powerful antioxidant that has incredible benefits for the skin as it able to neutralise harmful free radicals and protect the skin's surface from harmful pollutants. If you feel like your skin needs an added boost of Vitamin C, try incorporating some more of this particular type of nutrient into your diet. Vitamin C rich foods include: Citrus fruits, potatoes and broccoli.
Adding on to this, you can also take a daily supplement to help increase your intake of Vitamin C. Try looking in your local health store or online to find an appropriate supplement for you.
Moreover, using topical Vitamin C serums can be an effective way to apply this nutrient directly onto the skin. Vitamin C serums can be used in the morning to help prevent UV damage, or in the evening for increased protection against photosensitivity.
What are the benefits of having a facial treatment?
At Dermoi! we offer a wide variety of clinical facial treatments that can all be carried out within the comfort of your own home. Here are just two of our recommended treatments that help resolve a variety of skin conditions:
Firstly, the 'PCA Perfecting Peel' from PCA Skin is available for just £135.00. This facial treatment uses an array of products and treatments including enzymatic and perfecting mandelic peels, a 10% advanced retinoid booster and a high-quality lymphatic massage. As a result, the 'PCA Perfecting Peel' helps to reduce the appearance of fine lines and wrinkles and leaves you with instantly brighter skin after just one treatment.
Secondly, the 'PCA Bespoke Signature Treatment' is a facial that is designed specifically for male skin. This treatment makes use of a wide variety of PCA Skin's innovative products, including a rejuvenating mask and an enzymatic peel. The 'PCA Bespoke Signature Treatment' helps to smooth out uneven skin textures and gives you an immediate radiant glow for just £135.00.
How long does it take for a new skincare routine to work?
On average, it takes three months for a new skincare routine to present its promised results upon the skin. As your skin's lifecycle is only 4 weeks long, results can begin to show after just one month, but it is advised that you wait three months to give each product time to show its true effects. So, it is important that you are patient and consistent with your new skincare routine as your skin will continue to improve as time moves on.
Skincare routines are often the primary step when it comes to taking good care of our skin. In fact, a high-quality skincare routine can help enhance your skin so much that makeup may not be necessary. If you are looking to ditch certain makeup products and achieve a more natural glow, try one of our recommended products and give your skincare routine a new lease of life.