At Dermoi! we do not settle for anything less than the best. We believe that skincare should be transparent, meaning that each and every ingredient is researched in-depth and translated back to our customers in a digestible form. Our in-house scientist, Eve Casha, is determined to delve deeper into the world of skincare and find the best-quality products that are available on the mass market. In this article, we will be discussing a little more about Eve's role at Dermoi!, as well as exploring some of her most recommended products and treatments.
Introduction about Eve Casha, our in-house scientist
Eve Casha's role at Dermoi! is extremely significant. Using her qualifications in Pharmaceutical Formulation, Casha explores a variety of up-and-coming trends and helps to debunk any myths surrounding them. Her aim is to strip away any misleading marketing and present our customer base with the empirical evidence that supports each and every product. Eve Casha does not hide behind the scenes either. In fact, she is responsible for creating content for our growing social media platforms, such as Instagram and our YouTube channel.
What is the science behind beauty?
In previous generations, beauty was a concept controlled only by the wealthy, and the products were often unsanitary and unsafe. For example, in the 18th Century, many individuals applied makeup that contained high amounts of lead. This obviously led to a collection of horrific illnesses and eventually, deaths.
Nowadays, many skincare brands promote a more scientific approach when marketing their products. This is because as we become more conscious and caring towards our skin, it is vital that we are fully aware of what ingredients are used in our favourite products.
Moreover, many high-street brands are becoming more environmentally conscious, allowing them to create sustainable packaging and promote a cruelty-free approach to their production process. As a result, not only does the customer receive a more natural product, they are also aware that the production process did not cause any unnecessary harm to our environment.
All of these aspects come together and produce a more scientific and effective approach to creating better looking skin.
The research that we do behind our products
Elena Reva, the founder of Dermoi!, is passionate about scientifically formulated skincare. Reva founded Dermoi! as a way for customers to learn more about the ingredients they are using, and how they can work to benefit the skin.
Our research process is strict and empirical, allowing us to sought through a variety of skincare brands and present to you the best products available on the market. Every product that is available on the Dermoi! online store is accompanied by an extensive ingredient list, as well as simple guidelines on how to use the product. This ensures that every product we sell is safe, easy to use and effective on your skin.
Not to mention, the blog articles we produce for our Skincare Blog offer help and advice on a variety of topics. Every article has been perfectly crafted to ensure that the reader is gaining factual information in a digestible passage of writing. Therefore, you can make the best skincare decisions with the science in mind.
What are the best products our scientist, Eve Casha, recommends?
At Dermoi! we are proud to promote and sell a wide variety of skincare products, all of which are available on the Dermoi! online store. Here are just three of Eve Casha's favourite products:
Firstly, the 'Acne Gel' from PCA Skin is a powerful remedy that helps to tackle frequent and harsh breakouts. This product uses a potent concentration of salicylic acid to help diminish breakouts and congestion, as well as preventing future breakouts from occurring. The 'Acne Gel' is now selling for just £43.95.
If you are looking to improve your anti-aging skincare routine, Eve recommends the 'Retinol Reface' from Indeed Labs. This powerful product contains a carefully crafted blend of retinol, bakuchiol and a retinol-like-peptide, helping to stimulate healthy skin cell and collagen production. Moreover, due to its effective formula, this product does not cause any irritation or inflammation, meaning that is safe for sensitive skin. The 'Retinol Reface' is currently available for £18.99.
Casha also notes that SPF is a vital step in any skincare routine and recommends the 'Protect SPF30' from Osmosis Skincare as the perfect sunscreen. The 'Protect SPF30' is packed with essential Zinc Oxide, which helps to absorb harmful UV rays for complete protection. Currently, the 'Protect SPF30' is selling for just £38.50.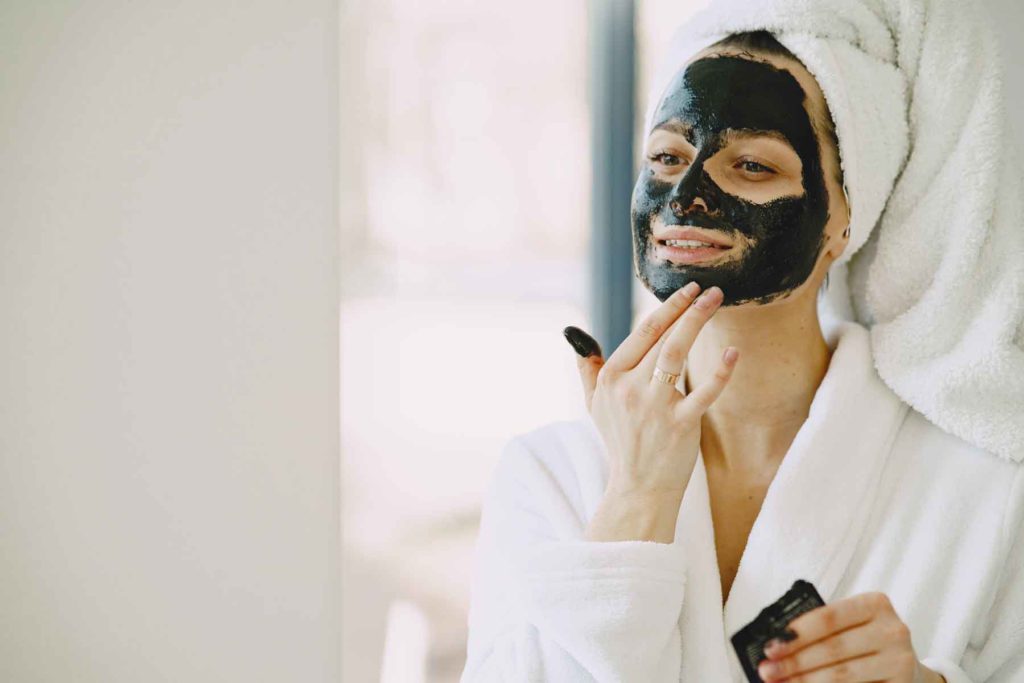 What are the best innovations in skin technology?
As skincare and science continue to blend and mesh together, technological advancements in beauty continues to expand. Most recently, the advent of professional facial tools has revolutionised at-home beauty treatments. For example, the 'Opatra Dermisonic', which combines four different settings to allow for complete skin rejuvenation. This device uses a collection of LED light therapies, galvanic technology, ultrasound stimulation and vibrating massage to increase circulation and tighten facial muscles. As a result, with regular use, you will be able to nourish and care for your skin in the comfort of your own home. The 'Opatra Dermisonic' is now selling on the Dermoi! online store for just £895.00.
What makes good skincare?
Skincare is a personal preference and should always cater to the needs and wants of your specific skin type. However, there are some key details to look out for when building an effective skincare routine.
Firstly, make sure that you are using gentle products, such as products that do not contain any fragrances or dyes. This will help to soothe your skin on a deeper level and ensure that your skin will not become irritated or inflamed.
Moreover, it is always a good idea to ensure that the products you are using are considered to be cruelty-free. Of course, this helps to support a more environmentally friendly lifestyle, but also warrants that the products you are applying are safe for human skin.
Finally, it is important that the skincare products you use on a daily basis are scientifically researched and developed. This means that the products you are using are certified for their intended use and can provide empirical evidence that they present their promised results. Therefore, it is important that you use products that actually benefit your skin overall.
Dermoi! has always put science at the forefront of all of its decisions. Whether it's describing the latest products or even discussing the latest trends, scientific evidence influences everything we do. If you are looking to build a more scientifically approved and more effective skincare routine, try out some of our recommended products and notice the beneficial results for yourself.