Skin pigmentation is a common skin complaint among the general population. In this blog, we'll cover the best products to treat uneven skin pigment, as well as the best facial for pigmentation.
What Is Skin Pigmentation
Skin pigmentation occurs when patches of your skin have uneven skin tones compared to the rest of your body. Skin colour is determined by a pigment called melanin. An overproduction of melanin is the main culprit of skin pigmentation, but there are many reasons why skin pigmentation disorders occur.
Although usually harmless, skin pigmentation on the face can be particularly concerning because of aesthetics.
These dark spots form during hyperpigmentation, and although there are many types of hyperpigmentation, here's a list of the main ones:
Sunspots – Also known as age spots, sunspots form as a result of unprotected sun exposure and they discolour the skin. UV radiation speeds up the process of melanin production, making patches of the skin appear darker than normal.
Post-Inflammatory Hyperpigmentation – This type of skin pigmentation can occur from inflammation caused by conditions such as acne and eczema. Although it affects all skin types, those with darker skin who suffer from irritation and inflamed skin are worst affected.
Melasma – Typically common in women, melasma causes larges patches of uneven skin tone due to hormonal changes. Occurring mostly on the face, melasma triggers the colour producing cells, melanocytes which cause an imbalance in skin tone.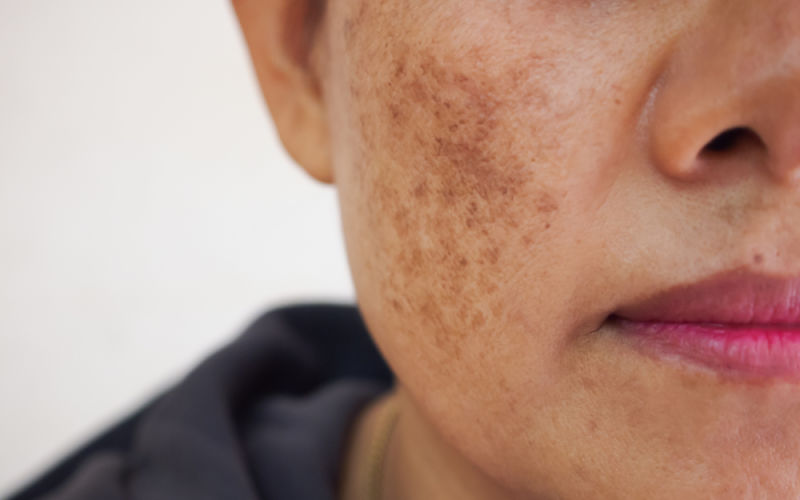 What Causes Skin Pigmentation
The pigment melanin is what determines the colour of your eyes, hair and skin tone. The more melanin you have, the darker your skin, and vice versa.
The amount of the pigment melanin produced in your body is already determined by your genes. However, melanin levels can vary due to external factors. Increased melanin production can cause pigmentation.
Here are some examples of external factors which can increase melanin production:
Inflammation – This triggers an excess of melanocytes, the cells that produce melanin. It darkens the skin even after the wounding and scarring are healed. Acne pigmentation is common in those that have acne-prone skin.
UV radiation – UV rays not only produce more free radicals that lead to fine lines and wrinkles but also stimulate melanin production, causing darker patches and discolouration in the skin.
Hormonal changes - Oestrogen and progesterone play a major role in producing excess melanin in the top layers of the skin, especially among women. Excess melanin can also be caused by birth control pills and pregnancy.
If left unchecked and untreated, your skin pigmentation will worsen and leave you with damaged skin and an uneven tone.
Why Your Skin Pigmentation Is Getting Worse
As mentioned above, sun exposure, hormonal changes and inflammation cause excess melanin which can result in an uneven skin tone.
But what are the lifestyle choices that make your skin pigment conditions worse?
Too much stress is a big contributor to hormonal imbalance. Stress hormones are perfectly natural and have benefits to your fight or flight reactions.
However, chronic stress and long periods of anxiety lead to an imbalance of oestrogen and progesterone for women. They cause an imbalance of testosterone in men.
Poor dieting that induces hormonal imbalances and inflammation is another player in skin pigmentation. Green vegetables, like broccoli and spinach, are melanin-reducing foods. These foods also have the added benefit of being good sources of antioxidants. Consuming these foods will help reduce pigmentation on the face.
There are also many great products which aid in reducing elimination. We'll also go on to cover the best facial for pigmentation.
How to Get Rid of Pigmentation
So you're wondering how to get rid of pigmentation? Here at Dermoi we offer scientifically proven skincare products and pigmentation treatment for all types of skin, including sensitive skin. Here are our recommended serums, brightening creams and the best creams for pigmentation:
Osmosis encapsulate their serums in liposomes, ensuring that the anti-inflammatory ingredients penetrate deeply.
The serum uses retinaldehyde, which is a more potent form of retinol (vitamin A). It helps to balance oil levels in the glands to prevent clogged pores and inflammation.
PCA Skin use their own version of liposomal delivery called OmniSomes. By slowly releasing the active ingredients over a ten hour period, this brightening serum will enhance the penetration of the formula.
The skin brightening serum will brighten up and promote an even skin tone due to the 0.5% of retinol. It also aids in pigmentation removal due to its skin brightening effects. It is ideal for those with hyperpigmentation but also those with oily and dry skin.
Pepta Bright is a pigmentation cream for the face which has the ability to brighten your skin and reduce dark spots.
This pigmentation removal cream incorporates sepiwhite (undecylenoyl phenylalanine), an acid that blocks melanin formation and instead helps to lighten the skin. The skin brightening cream uses 7 clinically proven peptides to block melanin synthesis from multiple pathways.
Heliocare provide the best spf for the face. A moisturiser with added spf is essential in protecting against pigmentation.
This sun-protective cream provides the best protection against UV radiation, including UVA and UVB.
The potent sunscreen spf 50 uses Fernblock FC and biomimetic melanin to treat and prevent sun damage, whilst providing protection. It is ideal for those with hyperpigmentation and rosacea and reduces the production of melanin.
While products are great for reducing pigmentation on the face, we also recommend tailored facials. See below for the best facial for pigmentation.
The Best Facial For Pigmentation
Our facials are tailored to your skin concerns and provide long-lasting results to your skin health. We specialise in treating pigmentation on the face. Our treatments are suitable for all skin types.
Two of our facials provide effective skin pigmentation treatment. Here are our best facials for pigmentation:
What is a chemical peel? They are a group of resurfacing procedures that act as a face exfoliator. Chemical peels use chemical exfoliation to carry out a controlled break down of the top layer or layers of the skin.
Dermoi offers a Perfecting Peel that brightens the skin while keeping the deeper layers of the skin damage-free. This is unlike other chemical peels which often damage the skin. It is the best in chemical peels and face exfoliators.
Like all of our treatments, we offer the chemical peel at home and travel to you. The Perfecting Peel also uses enzymatic and chemical resurfacing solutions to stimulate skin repair and collagen production. It is the perfect chemical peel for hyperpigmentation and the safest chemical peel in London.
Another of the best facials for pigmentation is the Osmosis Bespoke Signature Treatment. For pigmentation removal, our Osmosis Bespoke Facial includes retinaldehyde to boost protection against sun damage and reduce dark spots.
Our treatment brightens your skin with its remarkable vitamin fusion that is clinically proven to rejuvenate your skin cells. Osmosis Beauty also uses liposomal delivery for longer-lasting results with deeper penetration.
Author: Sam Pennington & Naeem Ali
References:
Handel, A., Miot, L. and Miot, H., 2014.

Melasma: a clinical and epidemiological review. Anais Brasileiros de Dermatologia, 89(5), pp.771-782.

Del Bino, S., Duval, C. and Bernerd, F., 2018.

Clinical and Biological Characterization of Skin Pigmentation Diversity and Its Consequences on UV Impact. International Journal of Molecular Sciences, 19(9), p.2668.