Dermoi retails a variety of skincare brands that are scientifically proven to work. Skincare brands at Dermoi are carefully selected and examined to confirm that no harmful ingredients are included, working with scientists and dermatologists to ascertain product safety. At Dermoi, skincare products are scrutinised and guaranteed to consist of active ingredients established to have the ability to penetrate into the deeper layers of the skin to ensure the greatest efficacy.
How Dermoi promises only scientific skincare?
As detailed previously, Dermoi cooperates with scientists and board-certified dermatologists to analyse skincare brands and their product formulations. Nothing ineffective or toxic is present in the skincare brands chosen at Dermoi, and are ensured to be so. These skincare brands use high-grade quality ingredients in their formulations, as well as advanced dermal delivery systems to affirm product efficacy and long-term results. Skincare brands that are retailed at Dermoi are normally found only at spas and skincare clinics—as their formulations are both proven and trustworthy—thus helping to make them accessible to the wider public.
Here is a list of ingredient-focused skincare brands with clinically proven results:
Biretix: Treatment for acne-prone skin
Biretix is a skincare haven for acne sufferers, catering to the latter with top-notch skincare formulations to combat acne, through anti-inflammatory and preventative options. This brand incorporates new, advanced technology called RetinSphere Technology, which entails a gentle, time-release formula that is ideal for sensitive skin types, as it does not result in irritation. Their Duo Anti-Blemish Gel is a potent blend of anti-acne ingredients, from salicylic acid and retinol to the new RetinSphere Technology. This product is mixed with anti-inflammatory and soothing ingredients such as oryza sativa bran extract, to minimise irritation and flushing. All in all, a well-rounded brand for oily, acne-prone skin types to consider.
Emepelle: Skin treatment for menopause
Emepelle's line is the only one in existence to cater to women experiencing menopause, as the fluctuation of hormones and a decrease in oestrogen levels result in fine lines and wrinkles, as well as a dull complexion. Emepelle believes that drastic results could be engendered through the delivery of beneficial ingredients into the skin on a cellular level, as studies show that 30% of the collagen in the skin disappears after 5 years of post-menopause. Emepelle's unique MEP technology is ideal for skin affected by menopause, through inciting the oestrogen receptors under our skin. Their Emepelle Serum is a powerhouse of its own, able to undo the signs of ageing and balance out the skin without the use of hormones.
Endocare: Revolutionary anti-aging skincare
Endocare uses its own patented technology to treat the characteristic signs of aging, such as fine lines and wrinkles, as well as restoring elasticity to sagging skin. Their EDAFENCE technology halts damage attained from environmental pollution, as the latter is one of the main reasons for aging skin; the SCA Growth Factor Technology is intended to restore elasticity to the skin; IFC CAF Skin Stem Activation encourages the production of skin cells; their Wharton Gel Complex stimulates the production of hyaluronic acid, to fill in fine lines and plump up the skin.
Exuviance: Innovating performance-based skincare
Exuviance's founders—Drs Ruey Yu and Eugene Van Scott—are famed for their discovery of the benefits of alpha-hydroxy acids (AHAs) for the skin. Their skincare line contains products for different skin conditions and types, from ageing concerns to oily and congested skin, using high-quality ingredients to deliver benefits without irritation. Their Bionic Oxygen Facial is a one of a kind product, acting as a mask to deliver pure oxygen into the skin, ideal for brightening and energising dull complexions.
Fillerina: No-needle hyaluronic acid fillers
As the description suggests, Fillerina creates advanced hyaluronic acid fillers with the intent of filling in fine lines and wrinkles without the need for needles, which are ideal for those who have trypanophobia. Fillerina uses different molecular sizes and weights of hyaluronic acid, to ensure that it is delivered into the deeper layers of the skin, in order to plump up sagging skin. Their Dermo-Cosmetic Filler Treatment (For At-Home Use) is an innovative product that hydrates and plumps the skin without the use of injections. They are offered in different grades, ranging from one to three, wherein the first grade is for those with moderate signs of aging, which intensifies as you go higher up a grade. Using this daily for two weeks will show a drastic difference in volume and elasticity of the skin.
Heliocare: Optimal Sun Protection
Heliocare's line only consists of sunscreens in a variety of forms, from the traditional liquid format to capsules, sprays, and compacts. Not only does it shield the skin from UVA and UVB rays, but Heliocare also incorporates their unique Fernblock FC formulation. As the name suggests, the latter is sourced from ferns, which acts as a potent antioxidant to neutralise free radicals and prevent premature skin aging. Heliocare's Colour Cushion Compact SPF 50+ is offered in two different shades, Beige and Bronze, and is a handy product to be carried around with you throughout the day to be reapplied easily. This is a non-comedogenic, oil-free, tinted formula that does not feel like a greasy layer on the skin. Overall, an ideal product to bring to the beach.
Indeed Labs: Skincare for real people with real results
This brand is a recent addition to Dermoi's collection and is an affordable skincare line consisting of high quality, innovative and effective ingredients with no irritation. Indeed Labs' packaging makes it convenient for skincare beginners to find the ingredients they're looking for, as the active ingredients they consist of are normally what they name their products after. This brand is also an ideal selection for anyone who has a fragrance allergy, as the artificial fragrance is largely excluded from their formulations. Their NoAcid Pads Exfoliator are suited for all skin types, but it is particularly ideal for sensitive skin, as it does not include any chemical exfoliants. Instead, Japanese cedar and yarrow extract is used to slough off dead skin cells and unclog congested pores.
iS Clinical Cosmeceuticals: The science of skincare
A renowned US brand found in spas and clinics, iS Clinical uses pharma-grade skincare ingredients in their product formulations, tested and proven to show drastic improvements to the skin. iS Clinical's line of products are created to target a range of skin concerns, ranging from acne and hyperpigmentation to general signs of ageing. iS Clinical recommends a four-step routine that entails cleanse, treat, moisturise and protect in order to ensure good skin. Their Super Serum Advance+ is an all-rounder, capable of treating skin conditions from acne and acne scarring to fine lines and wrinkles, along with shielding from sun damage.
Jan Marini Skin Research: Innovative skin research committed to results
This brand is capable of treating a wide variety of skin conditions, such as acne and dryness. Well-established ingredients such as retinol, glycolic acid and vitamin C are incorporated into their products as they are known for their efficacy. Jan Marini Skin Research believes in not only treating present skin conditions, but that of continued treatment intended for prevention. After all, prevention is less costly than treatment.
Jane Iredale Mineral Makeup: Mineral makeup as a vital part of skincare routines
Jane Iredale's makeup brand blends skincare with mineral-based makeup products filled with high-quality ingredients. All products contain active ingredients that are non-comedogenic and non-irritating; their line does not include artificial fragrances or other harmful ingredients. Their Liquid Minerals A Foundation is a moisturising, full-coverage foundation offered in a variety of shades, and its formulation is filled with anti-aging benefits.
Osmosis Skincare: The holistic approach to beauty
Osmosis Skincare is a holistic skincare brand dedicated to treating skin conditions from a cellular level, resulting in long-term benefits. Their patented liposomal delivery system ensures that the skin receives the maximum amount of benefits from active ingredients used in their products. Their famed line of Retinal Serums was created for different skin types and skin conditions, all effective and non-irritating to the skin; they are also safe to be used by pregnant or breastfeeding women.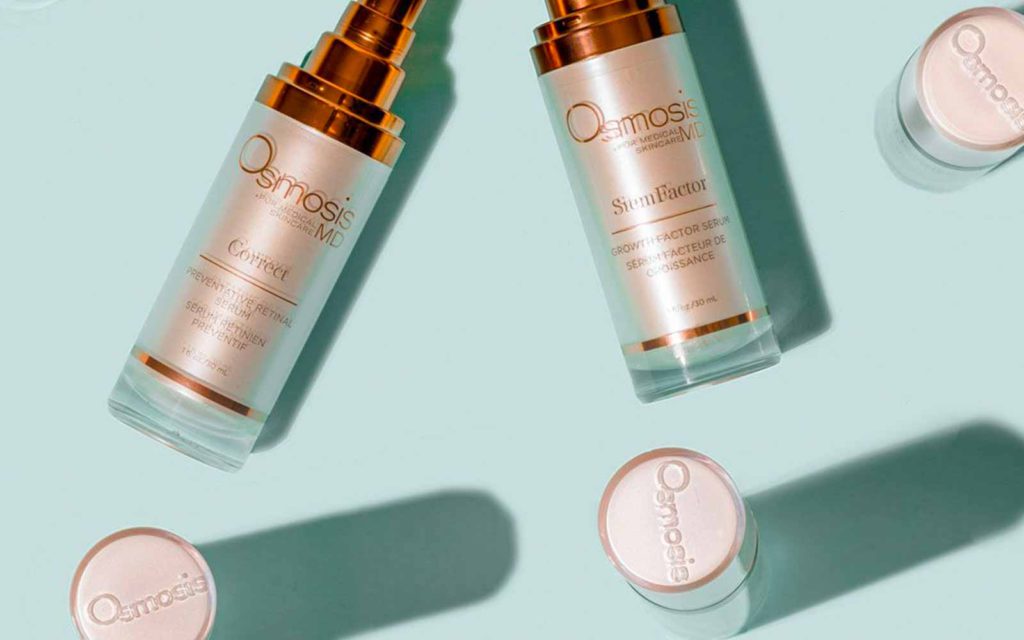 PCA Skin: Innovators in healthy skin for over 30 years
PCA Skin is known for its high standards and is trusted and used in skincare clinics due to the efficacy of their products, as they are formulated by a P.h.D. chemist. This brand is known for its facial chemical peels, as well as educating others regarding the skin and how to apply chemical peels safely. This includes Dermoi's itinerant beauty facialists and their use of PCA Skin products in facial treatments.
Skinade: Collagen drink for beautiful skin
Skinade is a brand that specialises in creating products that stimulate collagen production through non-intrusive methods like their tasty collagen drinks. Skinade uses its own unique collagen peptide that encourages your skin cells to produce more collagen to restore the skin's elasticity and firmness. Their Skinade Collagen Drink is offered in different quantities, from 10 to 30 bottles, mixed with various nutrients to energise your skin. If you accidentally skip one day, there is no need to worry, as the collagen peptide lasts up to 14 days in the skin!
How to know which ingredient is best for your type of skin?
Everyone's skin type is different, and as a result, requires different things. For instance, those with oilier skin types could not handle products intended for drier and mature skin types and vice versa, as it would be too heavy and cause congestion in the skin. The two different types of chemical exfoliants, AHAs and BHAs, are also better suited for dry and oily and sensitive skin types respectively, as BHAs are oil-soluble and anti-inflammatory. But there are skincare ingredients that could benefit all skin types regardless, such as hyaluronic acid, which draws and binds water to the skin to hydrate it.
All in all, it is vital to know your skin type first before purchasing anything. Knowing what suits your skin and what it can handle is also important, as some skins are less tolerant than others.
Author: Charlene M Teressa