Menopause is a stage of life that every female goes through, lasting anywhere from 1 to 14 years. A huge demographic of the population is suffering from the effects that menopause can have on the skin. There seems to be very little information and product guidance in the skincare industry concerning menopause skin that actually works, and this article will outline some of the main causes, effects and concerns you may be facing in your perimenopausal and menopausal years.
Can menopause cause itchy skin?
Itchy skin is a very common menopause symptom that can occur anywhere on the body. The skin reacts to hormonal changes within the body during menopause and can manifest in a range of ways, including hot flashes, sweating and itchiness. This can be incredibly uncomfortable both during the day and when you're trying to sleep. These changes inside the body during menopause are largely down to the effects of estrogen levels fluctuating.
Estrogen and progesterone are female reproductive hormones that can fluctuate hugely during menopause. Estrogen is a crucial hormone in maintaining healthy and vibrant skin; it activates estrogen receptors in skin cells to produce elastin and collagen and to increase cell turnover.
As estrogen levels decline, moisture levels in the body decline, which means that you have to up the quality and volume of your moisturiser, all over the body.
Menopause skin can become thinner, dryer and more sensitive, which can lead to itchiness.
Furthermore, menopause skin can be more sensitive to some skincare products using harsh chemicals or with abrasive formulas, which can again lead to itchiness or inflammation. You may find that your laundry detergent is suddenly causing your clothes to feel itchy and cling to the skin so make sure you're using lots of fabric conditioner and a natural detergent. Perfumes etc in detergents and in skincare products can be irritating and inflammatory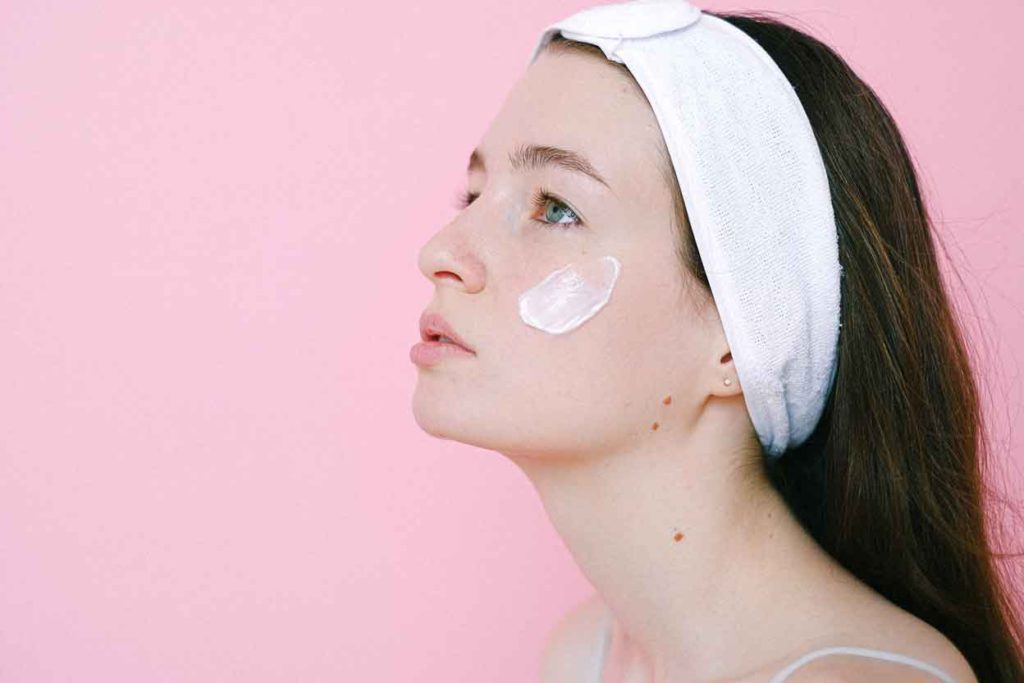 Is dry skin a sign of menopause?
Dry skin is also a very common sign of menopause because of the decrease in estrogen levels, which is referred to by dermatologists as EDS (estrogen-deficient skin).
Reduced estrogen levels slow down the body's natural production of oil and reduce the ability to retain moisture.
Therefore, it's essential to moisturise regularly! Moisturising the face and body while the skin is still damp after a shower or bath helps to lock in the natural moisture on the surface of the skin. This will alleviate dryness and itchiness – both of which come hand in hand.
Also, make sure you moisturise twice a day – morning and night – to help keep the skin smooth and appear more radiant. When skin lacks moisture, it can not only become itchy and irritating but can also make the skin more sensitive.
When you are showering try not to use super-hot water or harsh soaps and skincare products. They will irritate dry and itchy skin and make your skin look dry and flaky when you come out of the shower. Opt for a warm rather than boiling shower and gentle cleansers designed for sensitive skin.
Another tip is to eat foods rich in omega-3 fatty acids (not to be confused with omega-6), which includes fish, flaxseeds, nuts, plant-oils and supplements. A diet lacking in omega-3 can lead to hormonal imbalances and this will leave the skin feeling itchy, dry and prone to acne. Omega-3s are also anti-inflammatory which reduces inflammation caused by menopause.
To reduce dry menopause skin make sure to use a high SPF on both your face and body. Sun exposure can dry out the skin by decreasing moisture and essential oils on the skin's surface. The sun is also an accelerator of signs of ageing in general, so make sure to always use SPF on wrinkle-prone areas of the body, such as the face, neck, chest and hands. If you're in the sun a lot, also make sure to keep your skin hydrated rather than dry and itchy by drinking a lot of water.
How to improve skin elasticity after menopause?
Elastin is a protein found in the dermal layer of the skin. Skin elasticity is the ability of the skin to stretch and then return to its original shape. As we age, skin elasticity levels fall and this results in the skin appearing saggy, wrinkled and leathery.
Sun exposure, a poor diet and smoking also accelerate the loss of elastin in the skin.
Within the first 5 years of menopause, skin collagen levels decrease by 30%.
In each subsequent year of menopause, skin collagen levels decrease by 1%.
In each postmenopausal year, skin thickness declines by 1%.
Skincare is very important during and after menopause. Due to the hormonal changes that occur during menopause, skin elasticity and collagen levels are poor and need a little help to make the skin look more hydrated, brighter and firmer.
Here are some of the best ways to improve skin elasticity after menopause and fight signs of ageing:
Retinol:
Retinol (vitamin A) tightens fine lines and wrinkles, reduces hyperpigmentation, improves skin texture and fights acne. It penetrates deep beneath the epidermis to increase cell turnover, which boosts the production of elastin and collagen. This reduces the appearance of fine lines, wrinkles and enlarged pores.
Retinol also fights against menopause spots (which many women suffer from). The imbalance caused when hormonal levels fluctuate can lead to menopause skin breakouts. Retinol helps by eliminating the dead skin cells which clog pores and acting as a mild exfoliant on the surface layer of the skin.
It comes in many forms as a serum or cream – often added to night creams – and is an active ingredient in Emepelle's menopause-fighting products (see below).
Hyaluronic acid:
This is a glycosaminoglycan naturally found in your skin. It binds to water and carries it into the skin to preserve hydration and give a plumped complexion. When the skin is hydrated, fine lines and wrinkles appear diminished and therefore the skin looks and feels smoother and more even.
Try the Hyaluronic Acid Boosting Serum by PCA Skin – a light, instantly plumping serum that feels gentle on the skin.
Niacinamide:
This increases cell turnover which stimulates the production of collagen boosts barrier functions and evens skin tone and texture. It also provides antioxidant protection against environmental stressors like sunlight and pollution, which can damage thin and sensitive menopause skin. Niacinamide is a great ingredient to prevent and treat menopause acne because of its anti-inflammatory properties. It clears congested complexions from menopause skin breakouts and minimises the appearance of blemishes and post-acne scarring.
Vitamin C:
This promotes the production of collagen (thickening the skin and increasing elasticity), diminishes fine lines and wrinkles, and has a brightening effect, leaving the skin radiant and glowing.
Exercise:
Exercise is of course important for everyone at any age. But it can also improve the metabolism of skin cells so that they function better, and in turn, increase the elasticity of the skin. Exercise boosts blood circulation and helps the skin and the muscles to feel firm and tight. Don't worry about doing super intense workouts if that's not your thing – try running, cycling, walking, swimming or gymming. Any exercise is good exercise!
Maintain a healthy diet:
Firstly, it's important to drink A LOT of water for healthy and plump-looking skin. Dehydration leads to reduced elasticity levels and makes you more prone to fine lines and wrinkles. Aim to drink 2 litres of water a day, more if you can.
A diet rich in nutrients and vitamins will increase skin elasticity by helping to protect and repair the skin.
Vitamins A, C and E are found in fruits, vegetables, eggs and plant-oils.
Omega-3 fatty acids are found in fish, flaxseeds, nuts and plant oils.
Vitamins B2 and B3 are found in whole wheat products (bread, pasta), whole grains (rice), breakfast cereals, avocadoes, peanuts, mushrooms and potatoes.
Sleeping:
It may sound silly, but getting adequate sleep has a huge effect on the inner processes of the body. During sleep, the body and skin repair themselves. Natural processes such as the production of collagen and elastin speed up when you're sleeping, so, therefore, a lack of sleep or poor quality of sleep can slow down the restoration of your skin. Make sure you get the recommended 6-8 hours of sleep each night and try not to eat, drink or look at a screen for an hour before bed.
How can I boost my postmenopausal collagen?
Collagen is a protein in the body with the primary role of providing structure to the skin and helping the blood clot. It makes up more than 70% of the dry weight of the skin. As we age, the body produces cumulatively less collagen, and during menopause, the levels fall rapidly. This leads to wrinkles, thinner and drier skin.
In recent years, natural collagen has become common as a supplement in tablet or sachet form, to increase collagen levels in the body. The sachets are great because they can be either added to water or to smoothies etc!
Skinade Collagen Drink Sachets are great in protecting, repairing and reversing skin damage from the inside out. They contain collagen peptides and 5 different nutrients to rebuild depleted collagen levels in the body. They also offer a Collagen Drink which is premixed, so there is no need to make anything yourself.
Advanced Nutrition Programme has Skin Collagen Plus which is a food supplement that comes in capsule form, to be used every day with a meal.
If you prefer to improve skin elasticity levels using skincare products, our recommendation is the Indeed Labs Collagen Booster. This is the best anti-ageing facial serum to restore strength, elasticity and youthfulness in the skin. Apply twice a day to cleansed skin before heavier serums and moisturiser.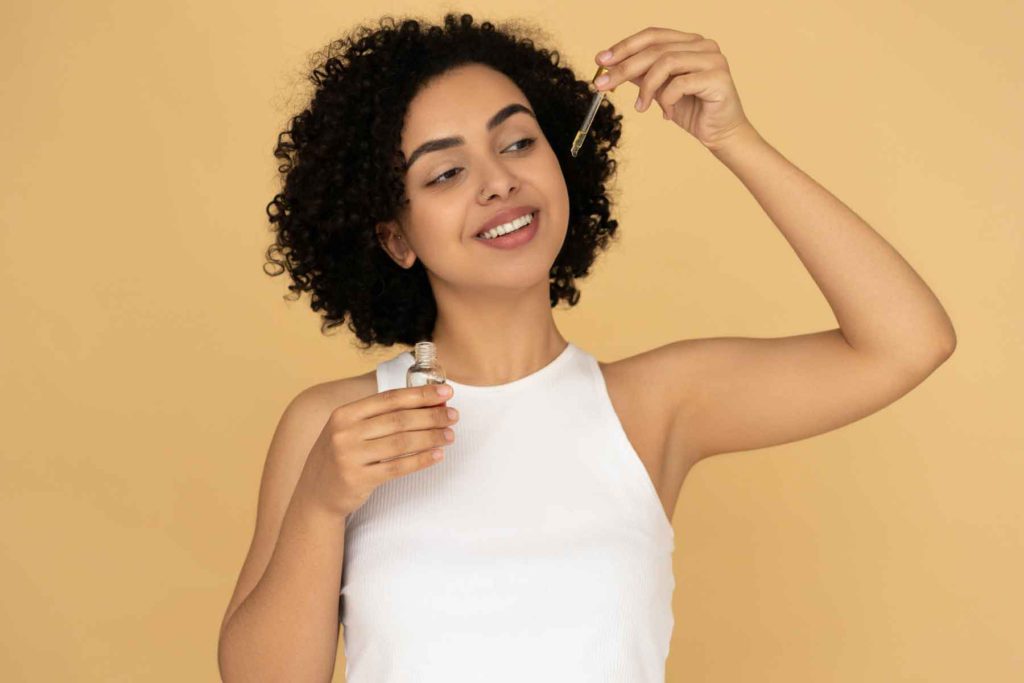 What is the best moisturiser for menopause skin?
Emepelle is a breakthrough skin innovation designed to restore the natural radiance of perimenopause and menopause skin. As the first menopause skin treatment, Emepelle could revolutionise your skin within 4-8 weeks!
Emepelle uses MEP technology to fight against EDS (estrogen-deficient skin) and make the skin hydrated, brighter and firmer. MEP is the first innovation in the world to non-hormonally counter the effects of EDS in perimenopausal and menopause skin.
Emepelle Serum is the best anti-ageing treatment to reduce wrinkles on the face, jaw and neck areas. It's a silky lightweight fast-absorbing all-in-one serum which makes it ideal to wear under makeup.
Emepelle Serum combines MEP technology with active ingredients to increase skin luminosity, hydration, firmness, and reduce the appearance of fine lines and wrinkles.
To incorporate Emepelle Serum into your menopause skincare routine, you can use it in the morning and at night as your serum – after cleansing and before moisturiser. Follow with an SPF (so important of anti-ageing!) in the morning and the Emepelle Night Cream in the evening. Apply to the face and neck, making sure to gently circulate under the eyes to reduce the appearance of under-eye circles and eye wrinkles.
Emepelle Night Cream is a luxurious moisturising cream product to be used every night after cleansing and after the Emepelle Serum, for best results. This cream is the most advanced anti-ageing menopause skincare product of our time. It's proven to improve hydration, brightness and firmness within 4-8 weeks of use every night.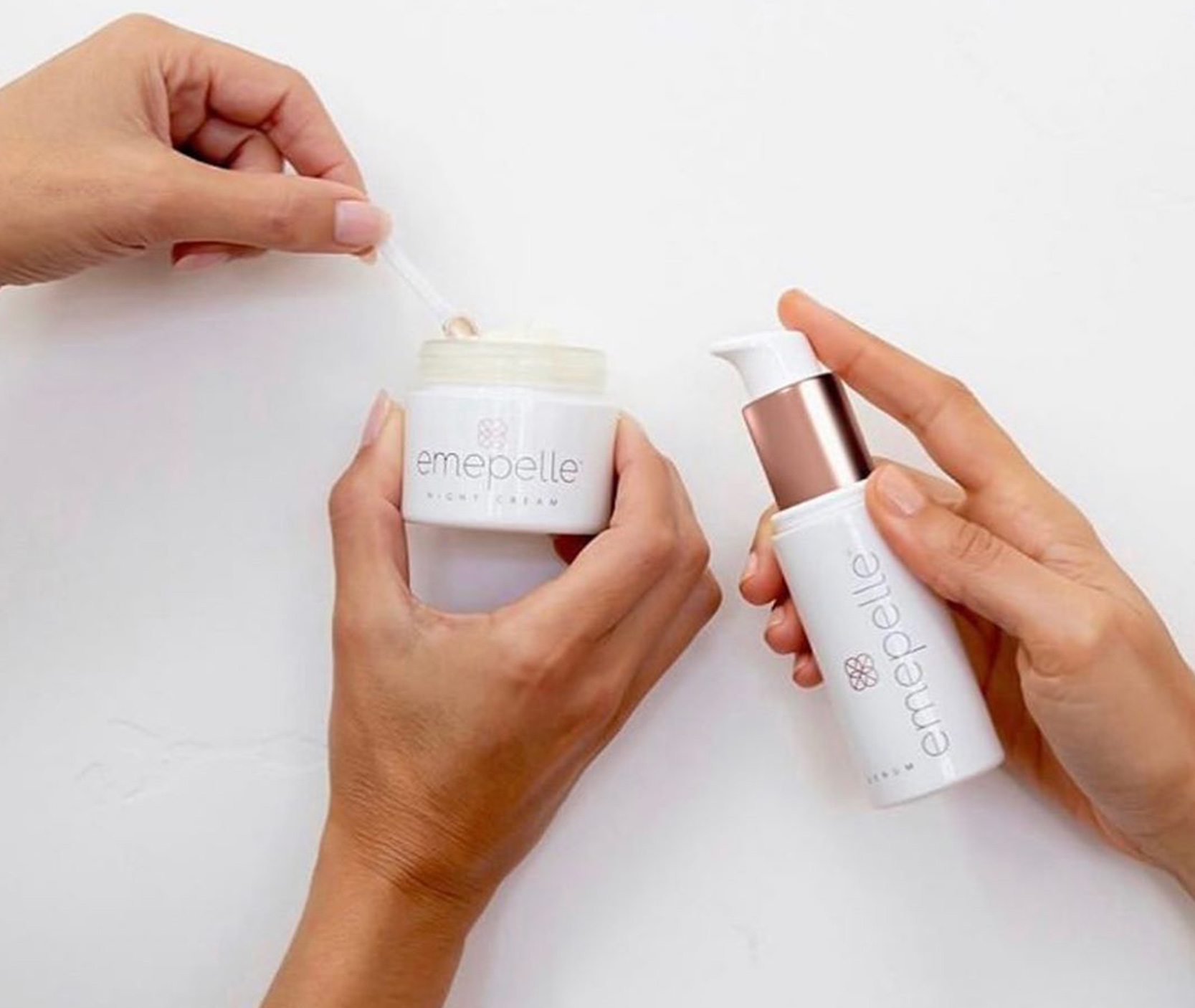 How to keep your skin looking young after menopause?
Young skin is defined as soft, plump, elastic, smooth, clear, radiant, glowing skin – all things that we spend most of our time trying to get back.
Constantly fighting against the signs of ageing, we look for the best anti-ageing skincare products and treatments, such as wrinkle removers, anti-wrinkle treatments, anti-ageing facial massages etc.
The best way to keep your skin looking young after menopause is to maintain a healthy diet, exercise, get enough sleep, and use skincare products with clinically proven ingredients, like those outlined above (retinol, hyaluronic acid, niacinamide, peptides, vitamin C and collagen).
Our number one recommendation is the Emepelle Serum and Emepelle Night Cream because they use world-leading MEP technology paired with powerhouse ingredients that yield incredible and scientifically proven results.