The cause of acne is mostly found internally. Our skin is the largest organ, and of course, it reflects our psychological and physical health. In a way, our skin is a mirror of what we eat, how we sleep, if we are stressed and how much we are exposed to pollution. Osmosis Skincare strongly focuses on improving skin health from within as part of a healthy lifestyle.
According to the NHS about 95% of people aged 11 to 30 are affected by acne to some extent. Acne is most common in girls between 14 to 17, and in boys from 16 to 19. Most people have acne on-and-off for several years before their symptoms start to improve as they get older.
At some point in our lives almost every one of us has or will have acne, so let's explore why that is and how to treat acne properly with Osmosis Skincare.
"Acne is a toxin purge, it's not a bacterial infection."
What can cause acne?
Osmosis Skincare has clinically proven that acne is not caused by a bacterial infection nor it is the result of excessive oil production by the sebaceous glands which is currently the most common opinion. According to osmosis' unique philosophy, acne is inflammation caused by the body's own detox process.
Our skin is a filter to help remove toxins from our bodies. Toxins are one of the main causes of breakouts. The toxins that are released due to bad diet choices, hormonal changes, stress, or candida (a yeast-like parasitic fungus), appear on different areas of the skin, like the face, back or chest. It can happen occasionally, monthly, or chronically.
Acne that emerges on your nose, upper cheek and forehead is caused by imbalances because of toxins from a hypertrophy of candida in the digestive tract. It is often provoked by medication, excessive consumption of sugar, and mucus-producing foods such as dairy and fried foods.
Candida is part of our live microorganisms population but it becomes more dominant when certain types of hormonal medication (often found in birth control pills) is taken, or when sugar, milk-based products or fried and junk foods are consumed frequently. It can also be caused by antibiotics.
According to Osmosis Skincare, up to 80% of people who frequently consume dairy based and fried products have an overgrowth of candida.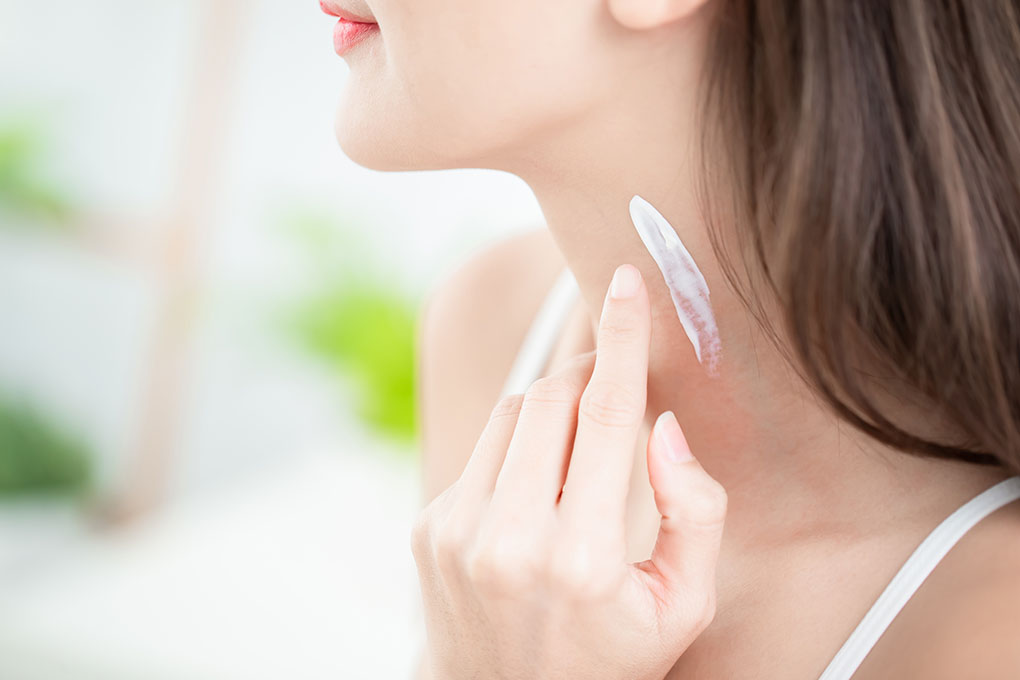 What acne treatments does Osmosis Skincare use?
Dr. Ben Johnson, the founder of Osmosis, says a healthy diet in combination with skin-balancing healthcare are the best treatment for acne. Osmosis skin care can be used for any type of acne, including acne vulgaris, hormonal acne and adult acne. Osmosis provices a holistic approach to active blemishes and reduction of acne scars. This is achieved by using balanced active ingredients which reach the deepest layers of the skin.
Which ingredients and delivery systems are used by Osmosis Skincare in their anti-acne range?
Liposomal retinaldehyde
Osmosis Skincare has ingredients that remodel scarring. In their anti-acne range of products, they are using potent antibacterial formulas that are non-irritating. Liposomal retinaldehyde used in Osmosis anti-acne serums, is directly converted into retinoic acid by our skin. It converts to retinoic acid 11 times faster than retinol and is approximately 20 times more potent than retinol.
Osmosis is using a liposomal formula of retinaldehyde to transfer key ingredients through the cell membrane and thus further into the layers of the skin.
Specifically, ingredients are coated with a liposome called phosphatidylcholine that increases product penetration by 600%. Phosphatidylcholine is a unique phospholipid because of its structure (Choline head and essential fatty acid chains which are similar to our cell membranes). When used to coat ingredients, it naturally enhances penetration into the cell and protects it during delivery.
Intercellular lipids like phosphatidylcholine are essential for corneocyte cohesion, and therefore the quality of the skin barrier, which prevents the evaporation of water. This results in smoother skin, increased moisture levels, and skin regeneration. Studies also show that it improves acne due to the high levels of linoleic acid.
Trixolane
Trixolane is a patented technology which is used in Rescue Serum and Immune Activator.
Rescue and Immune Activator are the result of over two decades of research, utilizing a patented oxygen molecule in order to augment and enhance the immune function of the skin and body. The key ingredient in these two products, Trioxolane (ozonized ethyl oleate), is a stable oxygen molecule that helps support immunity, repairs and prevents protein oxidation, and calms inflammation.
Trioxolane has been clinically tested to improve many conditions including acne. It supports wound healing, scar prevention, shingles, rheumatoid arthritis, and HIV.
Osmosis Skincare is harnessing the reparative power of Trioxolane to improve skin health and appearance. It is also used as a dietary supplement to slow ageing and to fight pathogens while beautifying the skin from the inside out.
Slows the aging process: By repairing oxidative damage, our cellular and organ aging is slowed.
Decreases pigmentation: By repairing epidermal damage, excess melanin production returns to normal without causing damage to the skin and without using toxic ingredients.
Anti-inflammatory: Decreases the inflammation present in the skin and body helping the natural healing process. It improves inflamed acne, rosacea, melasma, and many other inflammatory diseases.
Anti-microbial: Trioxolane is effective at strengthening immunity by restoring your oxygen fighting power. As a result, it helps in healing internal infections, auto-immune conditions, and topical fungal and bacterial infections.
Osmosis Skincare anti-acne product range
Whether your acne is caused by hormones, diet, candida, or stress – Osmosis Skincare created a collection of top anti-acne products that heal and repair wounds while reducing scar tissue. It normalises oil production and strengthens the epidermal barrier while improving immune function and skin detoxing for total rejuvenation.