Skincare has always been recommended, advertised, and mostly used by women, but men have been getting more and more interested in introducing a skincare routine in their daily lives.
Especially now due to the pandemic, stress and anxiety have increased for everyone, causing skin problems, and creating a rise in the interest in skincare products.
This blog will give men an overall insight into skincare for men and what products to use.
Do men care about their skin?
As mentioned beforehand, skincare is mostly advertised towards women, as well as there being a huge difference in skincare products available for women compared to men, however, more men seem to care about their skin health and appearance. Most of the time male grooming is focused on shaving, products like shaving cream, a good razor, aftershave, etc. There seems to be a common misconception in society that products like a facial cleanser or moisturiser are feminine products, however, male skin needs treatment just as much as female skin to guarantee a healthy complexion.
Furthermore, the rise in male beauty artist or skincare influencers have introduced the benefits of a good skincare routine to a younger audience, which caused a lot of young men to start caring about their skin health.
Overall, there is a rise in caring about their skin in the male population, but there could be done more by the media and companies to erase the stigma of a skincare routine being feminine and promoting it as something healthy and recommended for male skin as well as female skin.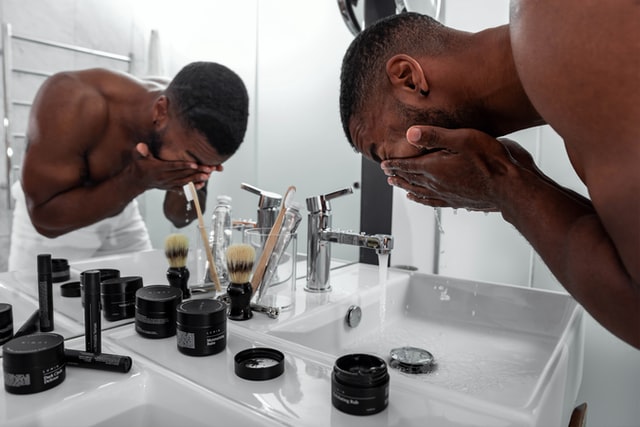 Should men use skincare products?
Men need skincare products for a healthy- and good-looking skin just as much as women do. Skin, no matter the gender, is damaged every day by sunlight, bacteria, etc. A good moisturiser and a broad-spectrum sunscreen are essential to healthy skin, it does not matter if you are a man or a woman. Men often have prolonged acne and a faster ageing appearance because they do not use skincare products like moisturiser or a facial cleanser. So, it is a good idea for men to start using skincare products in their daily routine.
Can men use skin care products for women?
Oftentimes, men will use their girlfriend's or wife's skincare products as they are so easily accessible, and they don't need to go buy their own. However, men's skin works and is different from female skin and should therefore be treated somewhat differently. Male skin is 25% thicker than women's skin, due to their higher levels of testosterone, which also increases the chance of oilier skin and regular breakouts. The thickness of their skin meaning that without the right high-performance ingredients men's skin might not be getting the care it needs. The oilier skin of men also might need a different cleanser that is stronger to see results.
Moreover, men's skin pH level is lower than women, meaning more moisture is being locked in the skin than for women, sometimes resulting in an increased chance of acne. Therefore, men should rather opt for an oil-free and mattifying moisturiser rather than women's moisturiser that often includes fatty acids.
Lastly, men age differently than women, as collagen and elastin degrade slower in male skin than women, due to it being denser. So, men can opt for an anti-ageing cream that has a higher concentration in retinol, for example.
The 4-step men's skincare routine
Here is a 4-step list that creates a basic men's skincare routine that anyone can easily follow and introduce into their daily skincare regime.
– Cleansing is so important
It is important to wash your face at least every night to get rid of dirt, pollution and bacteria that have been introduced to your skin throughout the day. The cleanser also helps reducing surface oil, hereby reducing possible acne breakouts.
– Exfoliate before shaving
Exfoliation is important as dead cells can stick around and clog pores which can cause acne, ingrown hairs, and dull skin. Men should exfoliate, or gently scrub, their faces once or twice a week to keep their faces free of these dead cells and guarantee an easy and smooth shave.
– Invest in a good all-round moisturiser
Moisturizer should be applied at least twice a day and should include SPF, minimum 30, to protect your skin from sun damage as well as keeping it moisturized. Some men might need more or less application of moisturiser as it depends on the skin type and skin dryness.
– Boost your skin from within with skin supplements
If you want to give your skin that extra boost of health, skin supplements are a great way to complement your skincare products, as it works from within your body. Skin supplements vary depending on the skin type but there is a suitable supplement for everyone.
These are the best men's skincare brands at Dermoi!
Here are different men's skincare brands to try out and implement into a skincare routine.
Endocare is a great skincare brand that is scientifically advanced and focuses on retexturizing and firming your skin. They have a range of products that are suitable for men's skincare but their most convenient one is their Endocare Cellpro regime kit. This skincare set provides everything a man needs in a skincare routine. It includes one gel cream, one intensive eye cream, and one cream that help hydrate your skin.
The gel-cream moisturises your skin while being dry to the touch, resulting in smoother and healthier-looking skin. The eye cream includes hyaluronic acid and a blend of Glycosaminoglycans that hydrate and plump your skin, as well as Caffeine and Haloxyl that increase circulation and minimise dark circles and puffiness. Lastly, the cream provides intense hydration during the night that leaves your skin visibly smoother and healthier. This cream deeply moisturises the skin while being non-oily. Every product in this set is recommended for all skin types, as well as making a great skincare gift for men.
Another great brand for men's skincare is PCA Skin. Their range of products includes two facial washes, one that is made for oily skin, their HydraLuxe moisturiser which provides intensive hydration, and their Ideal Complex Revitalizing Eye Gel, all great products for a basic men's skincare regime.
Finally, Indeed Labs is another brand that guarantees healthy skincare, through using active ingredients and removing any unnecessary elements from their products. They have a range of oils, moisturiser and exfoliators that are suitable for men's skin and an affordable price.