As we continue to age and mature, our once vital hormones begin to deplete, leaving us with an array of bodily issues. This is most significant with menopausal, and even premenopausal women. When women experience menopause, their estrogen levels begin to decrease, leaving them with potentially more sensitive and aging skin. Luckily, due to advancements in science and technology, certain brands have introduced products that help maintain optimal estrogen levels in menopausal skin without the use of HRT. This article will explore the world of MEP Technology and recommend a selection of products which make good use of this new technology.
At what age should I start using anti-aging products?
Many experts recommend that you should be incorporating anti-aging products into your skincare routine when you reach your 20s. During this time, your skin may be maturing gradually, so by using anti-aging products, you will be better able to protect your skin from the visible signs of premature aging.
If you are past your 20s, menopause can be a great time to reinvent your skincare routine. Estrogen depletion can cause your skin to become dry and sensitive, so try and use products that are gentle on the skin and contain no artificial fragrances or dyes.
What exactly is MEP Technology in skincare?
MEP Technology is a collection of ingredients that is patented and unique to the premium skincare brand, Emepelle. This innovative treatment is specifically designed to restore and rejuvenate the aging and lacklustre nature of menopausal skin. MEP Technology is unique in the sense that it is non-hormonal, so does not actually apply estrogen into the bloodstream. In fact, Emepelle products are able to powerfully encourage skin cells to activate new estrogen receptors. As a result, the skin is better able to maintain its regular biological functioning.
The benefits of MEP Technology
According to a clinical trial carried out by Emepelle themselves, participants recorded a 54% increase in hydration, a 34% increase in luminosity and a 19% increase in firmness after applying MEP for just 14 weeks. These outstanding results show how Emepelle is truly dedicated to reinventing menopausal skin treatments and how their positive effects improve the overall quality of the skin.
Moreover, MEP Technology prides itself on being non-hormonal. This means that these ingredients work to reactivate the optimal hormonal response in women and help to maintain these levels for younger-looking skin.
Adding on to this, MEP Technology works to repair collagen that is lost during menopause. As a result, Emepelle's products help to restore essential elasticity in the skin, giving you tighter, firmer and more youthful skin overall.
Do anti-aging serums work?
At Dermoi! we offer a wide range of high-quality anti-aging serums that are clinically proven to showcase a collection of beneficial results, all of which are available on the Dermoi! online store. In terms of MEP Technology, we offer the 'Emepelle Serum' from Emepelle for just £112.46. Packed with vital MEP Technology, this serum is able to restore the natural function of estrogen deficit skin, allowing younger-looking skin to form. Plus, the 'Emepelle Serum' contains Vitamins C and E as well as Ferulic Acid to help neutralise harmful free radicals and protect the skin further from oxidation and premature aging.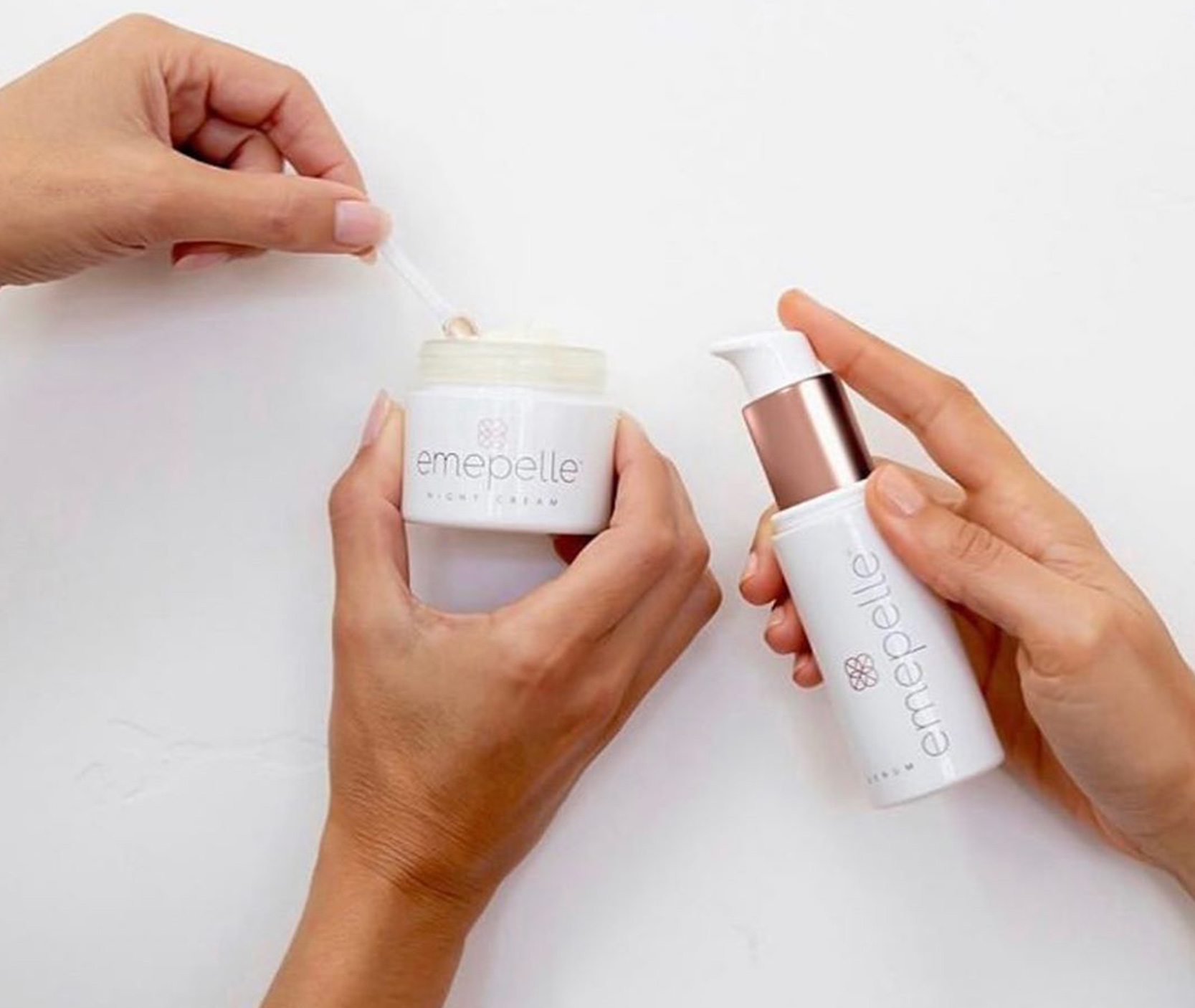 Does moisturising prevent aging?
Although moisturisers cannot directly reverse the physical signs of aging, they can help to improve the overall quality of the skin, which in turn, helps you to look younger. For example, high-quality moisturisers help to trap essential moisture into the skin. As a result, improved water retention helps to reduce the appearance of subtle lines and creases around the face.
Moisturisers also help to brighten dull and lifeless complexions. With more radiant skin, you will be able to achieve a more even skin tone and a blemish-free complexion. Moreover, brighter skin can reduce the sight of hyperpigmentation, such as dark spots or acne scars.
If you consistently use a high-quality moisturiser as part of both your morning and evening skincare routine, your skin is more likely to become plumper and firmer over time. This allows the skin to help fade deeply formed wrinkles on the upper surface of the skin.
What is the best anti-aging cream on the market?
If you are looking for a luxurious night cream that also contains innovative MEP Technology, why not try the 'Emepelle Night Cream'? Using the world's first MEP Technology, this night cream is able to reduce the sights of wrinkles, fine lines and creases in just 4-8 weeks of consistent use. Moreover, this cream contains retinol to help stimulate collagen production within the skin. As a result, the Emepelle Night Cream is able to create more youthful skin, whilst also balancing out uneven skin tones and redness. This product is now available on the Dermoi! online store for £139.46.
What are the best anti-aging treatments?
Here at Dermoi!, we also offer state of the art clinical facial treatments that can be carried out in the comfort of your own home. Here are just two of our facial treatments, both of which are designed to treat aging skin and can be found on the Dermoi! website:
Firstly, the 'Osmosis Glow/Anti-Aging Treatment' from Osmosis Skincare, which is currently available for £95.00. This facial treatment makes use of Osmosis' wide range of powerful products as well as a 2% Vitamin A infusion. Thus, this treatment helps to restore and rejuvenate maturing skin, as well as reducing the appearance of fine lines and wrinkles. Moreover, the 'Osmosis Glow/Anti-Aging Treatment' also uses lymphatic massage to help boost circulation for a more radiant complexion.
Secondly, the 'iS Clinical Glow/Anti-Aging Peel' from iS Clinical, now available for £115.00. This treatment includes a variety of iS Clinical's botanically derived ingredients to help hydrate, nourish and tighten gradually aging skin. This facial also incorporates galvanic technology, ultrasound stimulation, LED light therapy and vibrating massage to help stimulate new skin cell production as well as smooth out stubborn facial wrinkles. The 'iS Clinical Glow/Anti-Aging Peel' also offers an instant and radiant glow without the need for any downtime.
Menopause is a definite sign of aging for most women, but it must not decrease your overall self-confidence. As menopausal skin continues to change and adapt, try incorporating the innovative MEP Technology into your skincare routine and help maintain your youthful glow.