When it comes to high-quality skincare, the male demographic is often overlooked. A majority of marketing campaigns are targeted towards female skin, leaving the men with nowhere to turn. Moreover, a lot of male skincare does not explore or explain how the product will further benefit your skin, again leaving you feeling a little lost in the skincare industry. This article will describe the nuances of male skin and offer a premium skincare routine to help boost your look.
Why do men need skincare?
It is a common misconception that skincare is only made for women and only shows true benefits to female skin. This is not the case at all, in fact, male skin needs just as much maintenance as women's.
Men tend to have larger pores than women, meaning that their skin is likely to produce more sebum and be filled with more dead skin. As a result of this, men's skin is often softer and plumper, due to the natural moisture that resides in their pores. However, men can often be left with blemishes such as whiteheads or blackheads, if their pores become clogged with this excess oil and dead skin.
Moreover, the male hormone, testosterone, helps to make male skin 25% thicker than women's. This helps to create a plumper and firmer skin surface, which can often help men to look much younger than they actually are.
Furthermore, men have a lower pH balance than women. This difference helps male skin retain moisture more effectively. In turn, this helps the skin to keep hydrated and prevents the formation of fine lines and wrinkles.
Can men use women's skincare products?
Currently, on the market, there is an abundance of gendered products, aimed at both men and women. But is there an actual difference between men's and women's skincare?
Facial hair is a prominent factor when manufacturing male skincare products. If you choose to grow a healthy beard or even some designer stubble, it is best to choose products that help nourish and maintain those hair follicles.
Adding on to this, male skin does not mature in the same fashion as women's. For example, men do not get fine lines around their upper lips as frequent shaving acts as an effective exfoliation process. Due to this, it is best to avoid overly expensive exfoliation treatments.
Not all skincare products are gendered, in fact, many skincare products offer the same benefits for both men and women. An example of this is Vitamin C serums, which can be used on both male and female skin to help brighten dark spots.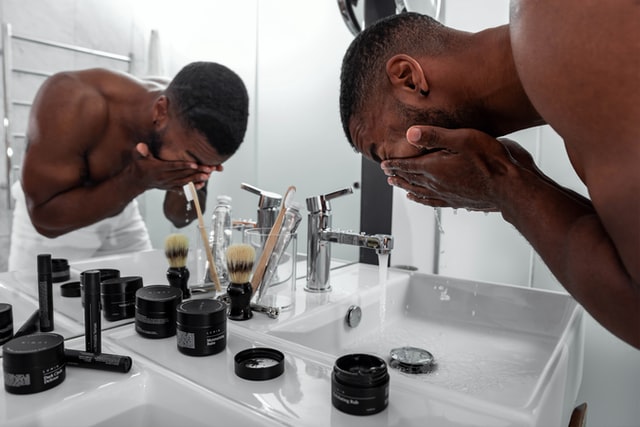 Why is men's skincare different from women's?
A lot of skincare brands try to manufacture their products towards the female demographic as it is often a larger and more loyal customer base. For example, a lot of female skincare products use exfoliants and acne-removal ingredients to help compensate for more oil production and fluctuations in hormone levels. In contrast, male skincare products contain anti-aging ingredients as male skin tends to more gradually, particularly around the eyes, than women's.
Moreover, male skincare products often use specific gendered marketing techniques to help appeal to the smaller male demographic. An example of this is using more masculine and wooden fragrances to help skincare products complement the natural scent of men.
Despite these differences, many experts claim that in theory, there are no differences between male and female skincare products. In fact, these products are designed to fulfil the needs of your particular skin type, not necessarily your sex.
What skincare products should men use?
At Dermoi!, we offer a wide selection of skincare products designed specifically to help nourish and protect male skin. Here are just a few of our favourite recommended products, all of which are available on the Dermoi! online store:
The 'Aquafoam Gentle Cleansing Wash' from Endocare is the perfect cleanser to add to your developing skincare routine. This product uses SCA BioRepair Technology to help stimulate collagen and maintain the skin's youthfulness and elasticity. The 'Aquafoam Gentle Cleansing Wash' also keeps the skin clean and refreshed for only £13.56.
If you are looking for a product that helps to reduce inflammation and redness, the 'Micropeel Purifying Exfoliant Treatment' is an effective solution. Packed with willow bark extract and niacinamide, this exfoliant helps to unclog enlarged pores and kill off any acne-causing bacteria. This is the perfect product for any acne sufferer, and it is now available for £19.95.
Next, the 'HydraLuxe' from PCA Skin is a powerful moisturiser that helps to improve moisture retention and protect the skin against the visible signs of aging. This moisturiser uses snow algae and chicory leaf extract to help soothe inflamed and irritated skin, whilst also reducing the appearance of fine lines and wrinkles. The 'HydraLuxe' is currently selling for £89.96.
To help further boost your anti-aging skincare routine, try using the 'CellPro Eye Contour' from Endocare. This effective eye cream uses snail-derived stem cells to boost hydration in the sensitive eye area, as well as promotes younger-looking skin to form. Moreover, this powerful product is available for just £37.35.
Finally, any effective skincare routine must include sunscreen to help prevent aging and harmful sun damage. The 'Heliocare 360: Water Gel SPF50' contains Fernblock, a powerful antioxidant that helps to protect the skin from harmful free radicals. Not to mention, this product also uses Vitamins C and E to help repair skin cells that have been affected by sun damage. As a result, the 'Heliocare 360: Water Gel SPF50' helps to prevent harmful UV rays from prematurely aging and damaging your skin for just £25.16.
How to have clear skin for men?
In terms of developing an effective skincare routine for men, it is important that you keep a consistent routine and use high-quality products. For example, it is advised that you wash your face twice a day with a gentle cleanser. You should first cleanse your face in the morning to help prepare the skin for the busy day ahead and then cleanse your face again in the evening to wash away any toxins that have formed in the skin throughout the day.
Moreover, exfoliation is a key step in any skincare routine as it helps to remove any excess oil, hair or dead skin from enlarged pores, allowing the skin to be clear and blemish-free. It is recommended that you exfoliate at least once in a week in order to see effective results.
In order to help the skin retain key hydration, it is paramount that you use a high-quality moisturiser in the morning and before you go to bed. This will help to nourish the skin cells and keep fine lines and wrinkles at bay.
Finally, in order to protect the skin from abrasive sun damage, you must apply a broad-spectrum sunscreen. Make sure to use sunscreen as the last step in your skincare routine as it has the thickest consistency, so it must not interfere with thinner products.
Best men's face cream for anti-aging
If you want to focus entirely on boosting your anti-aging routine, we recommend using the 'CellPro Gel Cream' from Endocare. This day cream helps to create instantly tighter and smoother skin, to maintain a more youthful complexion. Also, this cream is suitable for all skin types, making it safe and gentle for sensitive skin. The 'CellPro Gel Cream' is now selling for £37.35.
How to build a skincare routine?
In order to build an effective skincare routine, it is vital that you follow each step regularly and use each product with care. Plus, you must use each product in the morning and the evening to help create a consistent and habitual routine for your skin. Also, it is important to mention that you should add products into your skincare routine gradually, to give your skin time to become familiar with each product. Finally, you must be patient when it comes to your routine. On average, results begin to show after one month, but it can take up to three months for the skin to maintain those results, so make sure not to change your routine too quickly.
As the world of beauty and cosmetics continues to grow, it is important to remember our male counterparts and the needs and wants of their skin too. Male skin is just complex and beautiful and women's and can often need a lot of love and care in order to show its true results. If you are looking to build a new skincare routine, why not try out some of our recommended products and help nourish your skin.