Indeed labs – pioneer in innovative affordable skincare
Indeed Labs have been leading the way in the beauty industry with their innovative Hydraluron series.
With the award-winning hydraluron moisture serum and multiple other products, they've included the key ingredients of hyaluronic acid and red marine algae to hydrate, even out and energize our skin to keep us looking healthy. This blog will focus on the key ingredients of the products, their benefits and how this all helps you and your skin.
The promises of the beauty industry
Indeed Labs is a Canadian-based skincare company that has set out on a mission to offer highly effective, no non-sense skincare; with quality, active ingredients all backed by revolutionary science.
They aim to give people the confidence to show their real skin and they do this by providing products that effectively target skincare concerns for real people.
The Indeed Labs mantra is real science, real claims, real people and real results. I couldn't agree with this more.
Owning your skin and showing your authentic self is something Indeed Labs is helping people globally do, all while making it affordable and accessible.
The Indeed Labs mantra is real science, real claims, real people and real results. I couldn't agree with this more.
Why Indeed Labs chose Hyaluronic acid in their skincare range?
Hyaluronic acid is a product naturally found in the skin and is a powerful humectant. That means it pulls water from the atmosphere into your skin to maintain the moisture of the epidermis layer (the first and outer layer of the skin), similar to a sponge.
It can retain water up to 1000x its weight. Hyaluronic acid has become a well-known and sought after ingredient in the skincare industry especially for those with dry skin. Also if it hasn't already sparked an interest, it's a chemical that your body produces naturally in your eyes, joints and connective tissue.
It helps to lubricate the joints for movement and also to repair the body of tissue damage. Meaning it can easily be absorbed into the skin and helps to heal or repair dry, aged or sensitive skin. That makes it especially great in serums for an extra boost of hydration.
Benefits of hyaluronic acid:
As I mentioned hyaluronic acid has an amazing ability to retain water. It can help people with all skin types (even those with sensitive and acne-prone skin) to:
Retain collagen
Enhance elasticity
Improve the appearance of wrinkles and fine lines for smoother skin
Soothe dehydrated skin
Act as an antioxidant to help against environmental aggressors
Reinforce the defence barrier of the skin
The hydraluron series is arguably one of the most popular ranges from Indeed Labs and rightfully so. The award-winning Hydraluron moisture serum is a light-feeling gel that simply goes beneath your moisturiser for better-hydrated skin the next day.
The Key Ingredients:
Hyaluronic acid:
A low molecular weight hyaluronic acid has been added to help the skin with retaining moisture. It leaves skin plumper, more radiant and provides long-lasting hydration.
Red Marine Algae:
With a method developed in leading skincare clinics in Switzerland, it's a nutrient-rich mineral that helps with cell turnover and circulation. As hyaluronic acid is a larger molecule, in combination with red marine-algae, it allows for deeper penetration of the serum into the skin, further amplifying the skincare benefits.
Other amazing Award-Winning products in the Hydraluron series
Hydraluron moisture jelly– This moisturiser works to combat dehydrated, dull and aged skin. Again containing hyaluronic acid in combination with patcH20 and fucogel, these all work together to provide instant and long-lasting moisture. It also helps to target fine lines and to leave the skin plump and radiant.
On top of that, it is phthalate, sulphate, paraben and fragrance-free so is gentle enough that it can also work for those out there with sensitive skin. This is the last step in your skincare routine and is for forming a protective layer across the skin to prevent moisture loss.
Hydraluron cream cleanser- This cream cleanser works to dissolve the day's make-up and dirt with a refreshing lather whilst maintaining the skin's natural moisture barrier, meaning it's not going to be drying out your skin! It uses a coconut-based surfactant( a gentle yet effective chemical compound used for cleansing) and has exfoliating properties due to containing glycolic acid (an AHA) and papaya enzymes. A cleanser is the very first step and can be used both morning and evening or for those of you with drier skin just in the evening.
Papaya enzymes:
Helps to reduce inflammation
Can help even out skin tone for those with hyperpigmentation
Helps to remove dead skin cells on the surface which can cause acne and clog pores
Works to gently exfoliate even for those with sensitive skin
Flower acid:
Helps to support collagen production and reduces collagen regeneration
Brightens complexion to even out skin tone
Contains AHAs which gently exfoliate and remove dead skin cells
Strengthen the skin's barrier by increasing cell renewal
Grapeseed oil:
Powerful antioxidant source (helps Vitamins E and C within the skin)
A non-comedogenic oil (meaning it won't clog your pores)
Skin texture becomes softer
Helps elasticity of the skin
Hydraluron intense moisture lotion- An innovative formula which contains variations of high to low molecular weights of hyaluronic acid and key minerals, these work together to protect from environmental damage and leave dehydrated skin smooth and replenished. It also contains sodium hyaluronate which is a hydrophilic molecule, meaning it can mix well with water and moisture. It works in combination with hyaluronic acid to attract moisture and penetrate the skin's layer further for increased effects. This lotion is the last step in a routine and is applied after cleansing morning and evening.
Sepitonic M3:
Includes copper, magnesium and zinc
Specifically targets skin ageing
Improves circulation and increases oxygen levels in the skin
Can help protect against free-radical damage
Squalene:
Olive sourced emollient
Moisturises and soothes by replenishing fatty acids in the dermis layer
Anti-inflammatory benefits to help with acne or eczema
Non-comedogenic so it won't be clogging your pores
Shea butter:
Protects skin from environmental aggressors
Hydrates and maintains the protective layer of the skin
Anti-oxidant properties to help with anti-ageing of the skin
Anti-fungal to help target skin infections
Hydraluron + moisture mist-
This hydrating mist works to protect the skin's barrier against HEV light (blue light) and outdoor pollution. It works to provide lasting moisture and help smooth out fine lines and wrinkles to leave skin looking plump and smooth. This mist is extremely convenient and can be taken on the go to be used throughout the day when your skin is feeling parched and in need of a pick-me-up.
Buddleja Officinalis Extracts (Butterfly Bush):
Holds 3x the antioxidant power of goji berries
Targets the different harmful effects of UV rays, blue light and IR wavelengths
Reduces inflammation from harmful irritation
Decreases cell degradation
Hydraluron + volumizing lip treatment– This multi-award-winning lip treatment formula works to increase moisture levels and enhance the barrier of the lips to better protect from environmental changes.
It works to improve roughness, dryness, even skin-tone and smooth wrinkles, leaving lips feeling nourished and non-sticky. For those who are sensitive this product is fragrance-free which can be very difficult to find in a lip treatment.
Pomegranate Sterols:
Increases moisture levels
Protects against environmental stresses which leads to extrinsic ageing
Increases circulation to help with cell regeneration
Can also help to repair from UV damage
Mango Butter:
Rich in fatty acids and antioxidant properties
Non-comedogenic
Rich nourishing nature for those with excessively dry lips
Absorbs easily into the skin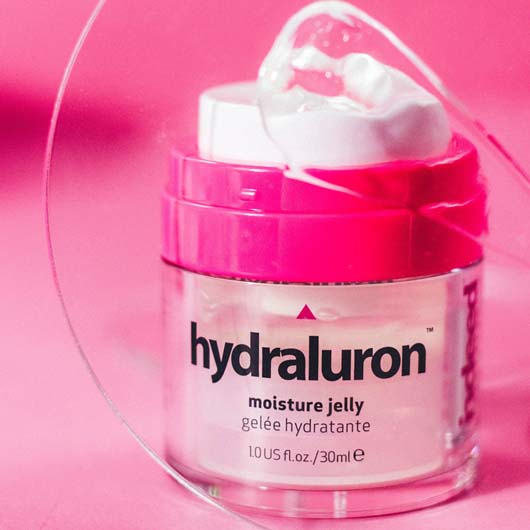 My final thoughts on Indeed Labs and the Hydraluron series
As a bit of background, I'm someone with very dry, sensitive skin. So if I had to pick the products I would like to try I think the one I'm most excited about is the Hydraluron Moisture Serum. It would be perfect in combination with my moisturiser for that extra layer of protection.
Although also, the Hydraluron + moisture mist is something I'd like to give a go. It seems perfect for taking out and about especially now in winter for when my skin is feeling a bit dehydrated just to give it a quick glow.
Also, the Buddleja Officinalis Extract is something I haven't seen a lot of in skincare ingredient lists so it would be something different to try.
Overall I resonated with what Indeed Labs stand for. Simple, minimal skincare that you can adapt to your own needs and is still effective. It's obvious the time, care and research they put into their products and ranges to ensure they are the best that they can be.
Something that stood out to me about the brand is that they never discontinue products but simply release newer, more improved formulas. I think it shows the confidence they have in what they put out and also in terms of sustainability in the skincare industry, this is a really good system put in place.
The Hydraluron series I feel is filling a gap in what was missing in the skincare community. It can be very easy for those with oilier or acne-prone skin to shy away from products packaged as hydrating.
However moisturising and maintaining our skin's defence barrier is essential and hyaluronic acid is a powerful ingredient so was a great choice for this line, as it is suitable for all skin types.
I feel it is accommodating for everyone and would be a great choice as your next skincare purchase.