Hyaluronic acid is a popular ingredient taking the skincare world by storm. This product is exceptional as it can be used by all skin types and treats a variety of skincare concerns with amazing results. But what exactly is hyaluronic acid, and what can it do to help you achieve your skincare goals?
What Is Hyaluronic Acid?
Hyaluronic acid is a naturally occurring compound in the body which helps cells retain moisture. Hyaluronic acid plumps up the skin by combining the water and collagen in our epidermis, which helps keep our skin looking youthful and vibrant. Hyaluronic acid is unique as it is able to draw moisture into our skin cells and maintain moisture levels even at a low concentration.
What does hyaluronic acid do to your skin?
As hyaluronic acid maintains moisture and collagen in the skin, it is an excellent product for preventing fine lines and wrinkles and other signs of ageing as it tightens and smooths the skin. In addition to its anti-ageing properties, hyaluronic acid increases cell turnover. This means that it reduces the signs of hyperpigmentation. Hyaluronic acid also has anti-inflammatory properties that allow it to calm the skin, reducing the appearance of redness and acne by preventing oil over production thanks to its hydrating quality. Hyaluronic acid is therefore an ingredient for all skin types, improving dry skin, preventing signs of ageing, reducing acne and oil, and soothing inflamed skin.
What is hyaluronic acid made off?
Hyaluronic acid is made up of glycuronic acid and N-acetylglucosamine and is a sugar-based molecule. Although it can be found naturally occurring in our skin, hyaluronic acid levels in the epidermis decrease as we age making it vital to use as we mature in order to replenish the skin and sustain moisture and smooth skin. Hyaluronic acid is usually sourced from plant products such as tree sap. Plants can also be fermented along with bacteria and hyaluronic acid is extracted from this.
What is the best skincare hyaluronic acid?
The best skincare hyaluronic acid is Fillerina 932. This hyaluronic acid product is a dermo-cosmetic filler treatment that can be used at home. This product contains 9 different hyaluronic acids at different molecular weights. The differing levels of hyaluronic acid enables this product to reach every layer of the epidermis, meaning it targets all the signs of ageing from fine lines to deeper wrinkles. As well as containing diverse hyaluronic acid levels, it also contains collagen in three different forms. These collagens vary in molecular weight meaning the collagen is well distributed throughout your skin, which supports the hyaluronic acid and enhances effects of Fillerina 932 leaving you with a youthful glow and firmer skin. Another ingredient in Fillerina 932 is two different types of elastins that restore your skin's bounce and elasticity, preventing and reducing the appearance of sagging and wrinkles. This product is the best skincare hyaluronic acid as it is incredibly effective and doesn't have to be applied with injections.
Does hyaluronic acid really work?
Hyaluronic acid is excellent for moisturizing your skin and diminishing the signs of ageing. Hyaluronic acid does really work, but must be used regularly to achieve beautiful, revitalised skin. Results can be seen instantly as hyaluronic acid hydrates the face and revives your skin. However, hyaluronic acid takes between four and eight weeks for the best, more intense results to be seen. This is because your skin will adjust to the treatment and the long-term results will take effect. After using hyaluronic acid for a longer period of time, hyaluronic acid skin benefits will be visible, and your skin will appear smoother and less texturized as hyaluronic acid combats wrinkles, fine lines and rough skin.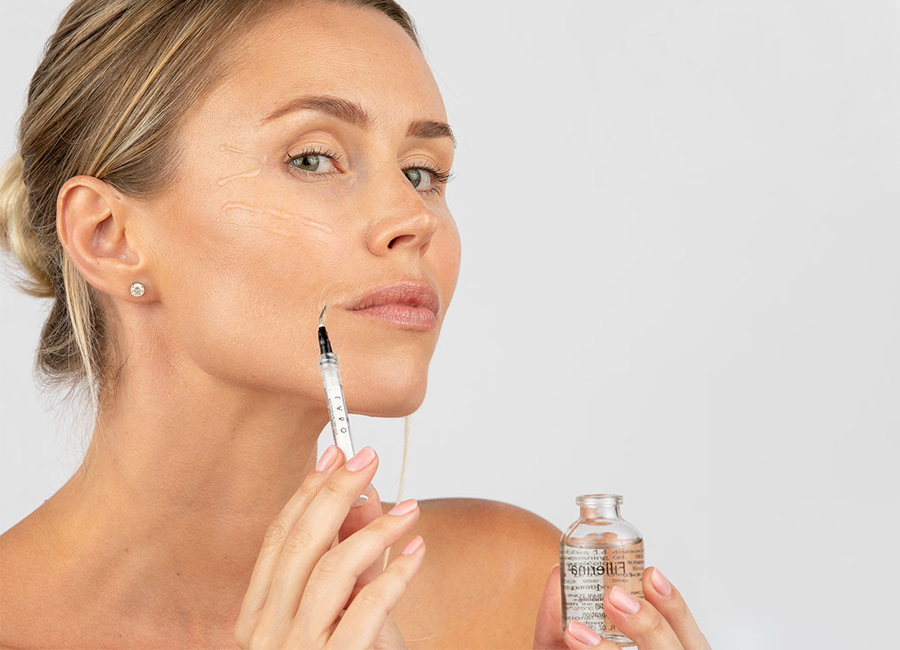 The best hyaluronic acid serum
The best hyaluronic acid serum is the Fillerina Biorevitaliszing 932 treatment, which should be applied for two weeks to combat wrinkles and re-volumize your cheeks and lips. This product is the most effective hyaluronic acid treatment to combat signs of ageing. This product is a hyaluronic acid filler that can be used at home. Fillerina Biorevitalizing 932 fights the signs of ageing in two ways: first, hyaluronic acid fills the tissue, minimizing wrinkles and lifting the face by increasing the volume of sagging cheeks, lips and jawline. Next, the treatment encourages skin cell regeneration thanks to the biorevitalising components, making your skin more youthful and helping you naturally fight the signs of ageing with long-term effects.
Another great hyaluronic acid serum is the Hydration Booster. This product is perfect for treating dry skin as along with the hyaluronic acid, this product contains niacinamide to soothe inflamed skin and restore the skin barrier, thereby preventing water loss. This product is less intense than the Fillerina 932 treatment, so its effects won't be as drastic. However, it is an excellent product for younger skin, and is perfect to revive dry skin and retain moisture.
The best hyaluronic acid cream
The best hyaluronic acid face cream for mature skin is the Fillerina Day Cream which contains peptides that support the water binding properties of hyaluronic acid and restore your skin's elasticity. This product can be used alongside the Fillerina Night Cream, the perfect product to soften and smooth skin. This cream contains rosehip oil, which is rich naturally occurring vitamins such as vitamin A, which promotes collagen production to combat signs of ageing whilst hydrating and softening your skin. Shea butter also protects the skin while you sleep and prevents moisture loss while the star ingredient, hyaluronic acid, works its magic and fights signs of ageing such as sagging skin and wrinkles.
These creams come in different grades making them an excellent choice for a variety of skin types. For younger skin, particularly dry skin, grade 1 is an excellent choice as the moisturising and smoothing properties improve skin texture and soothe the skin.
For more mature or damaged skin, grade 2 will calm your skin and reverse signs of ageing by smoothing out fine lines and wrinkles.
For significant signs of ageing such as deep wrinkles and sagging or very dry rough and textured skin, grade 3 will have the best results. This powerful treatment re-volumizes the face and smooths out wrinkles. It also remoisturizing the face and reduces texture with incredible results. This grade of product fights signs of ageing and dry skin at the deepest levels of the epidermis.
How to apply hyaluronic acid
Hyaluronic can be applied in a number of different ways depending on the product. Hyaluronic acid moisturizers can be applied at the end of your face routine just as you would apply a regular moisturizer. For hyaluronic acid serums, apply them after a cleanser and toner. Serums can be applied directly onto your face or onto clean fingertips and then massaged into the skin.
Using a hyaluronic acid treatment like the Dermo-Cosmetic Filler Treatment or the Fillerina 932 Bio-Revitalizing Dermo-Cosmetic Filler will have a different application process as these treatments use a hyaluronic acid gel. For the dermo-cosmetic filler treatment, apply 2 ml of the product on your face in the areas that need targeting, and leave for 10 minutes before repeating the process with the nourishing film, applying it evenly to the face this time.
For the Fillerina 932, first you should prepare your skin by cleansing and exfoliating with the preparatory cleansing brush and included cleanser. This will allow the product to better penetrate the deeper layers of your skin. Next, using the included applicators, apply 2 ml of the fillerina product on your face in the areas you want to target, and wait ten minutes before applying the second biorevitalizing treatment and leaving also for 10 minutes to allow the product to work its way through your skin for maximum results.
Should I use hyaluronic acid every day?
Depending on the product, hyaluronic can absolutely be applied every day. Hyaluronic acid is an excellent treatment as it can be used along with retinol and vitamin C to combat signs of ageing and, for people with acne prone skin, can be used to restore moisture levels to the skin after using drying acne treatments or retinol, which can cause skin peeling and flaking. However, in contrast to using ordinary hyaluronic acid, when using specialized treatments, you should always follow the recommended use. The Fillerina 932 treatment should be used daily for two weeks and left on your face for ten minutes to maximize results. After completing the treatment, you may continue with other milder hyaluronic acid creams or serums.
Who should use hyaluronic acid?
Hyaluronic acid is excellent for all skin types as it addresses a wide variety of skincare concerns, is non irritating and can be used with all other skincare treatments without reaction. Hyaluronic acid is excellent for restoring hydration to dry and flaking skin while also minimizing oil production in oily skin types by maintaining skin moisture levels. However, hyaluronic acid is the best ingredient to prevent and diminish the signs of ageing. This makes it the best treatment for mature skin. Treatments containing collagen and hyaluronic acid are excellent as they work together to reduce fine lines as well as deep wrinkles and make the skin firmer thereby diminishing the appearance of sagging skin. Hyaluronic acid is therefore one of the most universally beneficial ingredients and benefits will be seen by anyone who uses it, no matter the skin type.