When building an effective skincare routine, it is vital that you choose products that work well and benefit each other. There is a developing debate surrounding whether you should layer your skincare products. Not to mention, there is a lot of confusion about how we should layer our skincare products. In this article, we will be exploring how to layer products safely and also recommending some of our favourite skincare products.
Why is it important to have a daily skincare routine?
Skincare routines are a simple way to dramatically replenish the quality of your skin. By creating an effective daily skincare routine, you will be better able to maintain the quality of your complexion. This is because the more often you use a product, the more benefits it will have for your skin. In turn, the more consistent you are with your skincare routine, the more attractive your skin will become.
Moreover, skincare routines can help to treat and prevent various skin conditions. For example, if you suffer from frequent acne breakouts, an effective skincare routine can help to unclog enlarged pores and reduce inflammation. Therefore, you are able to minimise existing breakouts, as well as prevent future breakouts from occurring.
Finally, skincare routines can be a good way to experiment or try out a variety of different products. As long as you research the products beforehand, you can explore a collection of skincare combinations and still achieve better looking skin.
Are toners necessary?
There have been various debates and conversations about whether toners are actually necessary in a skincare routine. The simple answer to this debate is both yes and no. Toners can provide a deeper cleanse for those with oily or problem skin, helping to unclog the pores of any excess hair, oil or dirt that this resides on the skin after the initial cleanse.
However, for those with normal or dry skin types, toners are not entirely necessary, as a first cleanse should be enough for your skin type. Therefore, toners can be useful for those with acne prone skin, but deemed unnecessary for other skin types.
What order do you put on serums?
Layering skincare products can be a confusing task, as is it difficult to determine which products should be applied first. With regard to serums, due to their thinner consistency, professionals recommend that they should be applied after both a cleanser or toner. This is because a serum is a lot thinner than other products, meaning that it must not become stuck between the layers of thicker products, such as moisturisers.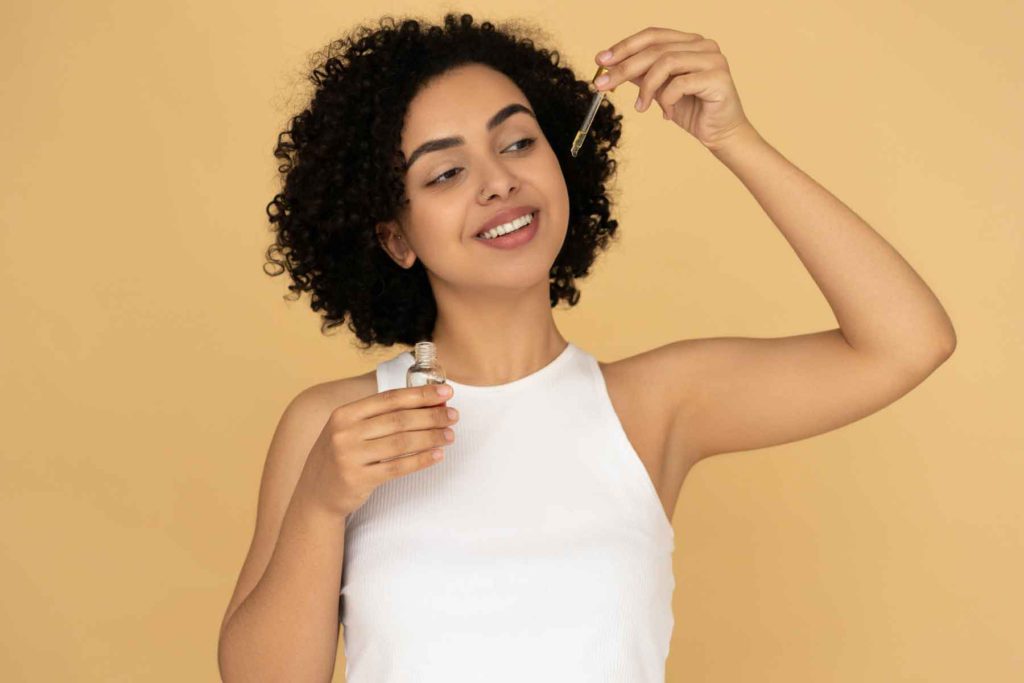 In what order should I use skincare products?
We are here to finally answer the question once and for all. Described below is the order in which you should layer your skincare products, both your your daily morning and evening skincare routines:
Morning Skincare Routine
1: Cleanser
2: Toner
3: Serums
4: Eye Cream
5: Acne Treatments
6: Moisturiser
7: Face Oils
8: Sunscreen
Evening Skincare Routine
1: Cleanser
2: Toner
3: Serums
4: Eye Cream
5: Acne Treatments
6: Moisturiser
7: Retinol
8: Face Oils
What are the products that I need to add to my skincare routine?
At Dermoi! we offer an expansive range of skincare products that can be used together to create an effective skincare routine. Here are just four of our favourite products, all of which are available on the Dermoi! online store.
Firstly, if you are looking for an effective cleanser to begin your skincare routine, the 'Deep Clean Detox Cleanser' from Osmosis Skincare is the perfect solution. This cleanser is packed with an effective Beta Hydroxyl Acid (BHA) to help lift away any residual dirt or toxins that are found on the superficial layers of the skin, Moreover, this product uses coconut surfactants to offer a gentle cleansing agent, which is also antibacterial, to help dissolve any impurities that could further harm the skin. Despite its powerful cleansing ability, this cleanser does not irritate the skin, making it a universal cleanser for all skin types. The 'Deep Clean Detox Cleanser' is now available for the starting price of just £21.95.
An effective sunscreen is a vital step in any skincare routine and should be viewed as a final important step. The 'Hydrator Plus Broad Spectrum SPF 30' from PCA Skin offer complete protection against harmful sun damage. Using a potent blend of a collection of antioxidants such as, Zinc Oxide, Octinoxate, Octisalate and Caffeine, this sunscreen helps to absorb harmful UV rays and neutralise free radicals, giving you a undefeated barrier against excessive sun exposure. Not to mention, the Skin Cancer Foundation has verified this product safe for daily use. The 'Hydrator Plus Broad Spectrum SPF 30' is currently selling for just £42.00.
Moisturisers can help to revitalise dehydrated skin, as well as help you achieve a softer and plumper complexion overall. The 'Hydraluron Moisture Jelly' from Indeed Labs is designed to provide long-lasting hydration and maintain moisture retention over time. This moisturiser contains high amounts of hyaluronic acid, which works to collectively bind water molecules at an extraordinary rate. In turn, this helps the skin to retain more of its essential moisture, as well as create younger looking skin. The 'Hydraluron Moisture Jelly' is now available for the amazing price of just £21.95.
Finally, retinol has become a powerful defence against aging in the last few years and has developed a positive reputation among many customers. The 'Intensive Age Refining Treatment: 0.5% Pure Retinol' from PCA Skin is the perfect asset to any anti-aging skincare routine. Combining retinol, niacinamide and stem cell extracts, this product is able to encourage increased skin cell production to help you achieve younger looking skin. Moreover, this process works over a 10-hour period, meaning that the reduction of fine lines and wrinkles occurs as you sleep. The 'Intensive Age Refining Treatment: 0.5% Pure Retinol' is now selling for £71.95.
Do I need both a serum and a moisturiser?
Both serums and moisturisers are great assets for the quality of your skin. But the question is, do you need both of them? Research suggests that serums and moisturisers can compliment each other greatly, but it not necessary to use both all of the time.
A serum tends to retain moisture at a deeper cellular level, whereas a moisturiser helps to hydrate the upper layer of your skin. Therefore, if you suffer with excessively dry skin, you may benefit form using both a serum and a moisturiser to help you achieve complete hydration for your skin.
Layering skincare product continues to be a confusing subject for many people. However, skincare routines do not have to be daunting or scary, they just require high-quality products and research to make them more effective. So, if you are looking to try out some new skincare products, why not try using the products suggested in this article and delve into the world of layering products?