In this blog you will be able to read about the last advancement in anti-ageing treatments, how this treatment works, why it works differently than the other treatments you've tried before and why you should think about giving it a try!
What causes wrinkles in ageing?
Wrinkling is a naturally occurring skin condition that begins to develop and becomes visibly more noticeable as we start to age. While wrinkling is, in fact, the most natural and most common thing that at one point or another will happen to everyone as we go on through our life, it is definitely something that no one should be afraid of, as they merely tell the story of your life – the laughs and the cries, the smiles and the frowns. However, even though we don't have to hate wrinkles or be afraid of them, we certainly also don't have to like them as a phenomena! If you know what causes this process and why it inevitably happens to everyone, you can try to prevent it, postpone it and even reverse it, all of which is possible if done correctly. We know that wrinkles are brought on by age, but what exactly does it mean?
Through out your life, your body is constantly carrying out different processes, releasing hormones, secreting proteins and enzymes, excreting toxins, supporting itself. With age, your bodily processes and mechanisms begin to naturally slow down, gradually producing less and less essential elements and chemicals, that are crucial for the optimal functioning of human body. When we are young, our bodies naturally produce enough of the hormones, responsible for sustenance of skin's health, as well aa proteins as collagen and elastin, which allow the skin to stay firm, well-nourished and tight. Hormonal changes often lead to loss of moisture and dehydration of the skin, while natural ageing lead to a significant decrease in collagen production from your 20s, which results in increased dryness, raised sensitivity and loosening of the skin layers. As the skin's moisture supply is depleting and the middle layer of the skin becomes thinner and looser, the skin becomes less able to produce oils and retain moisture as well as begins to sag, contributing to the noticeability of fine lines and wrinkles, which occur as a natural result of facial muscle contractions. Another major factor in ageing and wrinkles is overexposure to the UV light radiation from the sun, which results in premature ageing and contributes to a faster break down of collagen fibers. Research shows, that when UV light damages the skin, it leads to the production of metalloproteinase, which is an enzyme, that helps to create and reform collagen. Unfortunately, portions of new and reformed collagen fiber tissue is damaged, when this process takes place, resulting solar elastosis, which is a disorganized formation of fibers. This particular phenomena is exactly what we often refer to as wrinkling, which occurs as the collagen rebuilding process takes place too often, resulting in deterioration of the function over time.
Another major factor in premature wrinkling and ageing is lifestyle. Experts state, that smoking causes a marked reduction in the process of creating and building collagen, which as we've outlined above is crucial for a supple, youthful appearance of the skin. However, research also shows that even if you are a heavy smoker or have been smoking for a very long period of time, quitting smoking would significantly improve your skin's composition and health.
How Fillerina treats wrinkles & ageing differently?
Fillerina is a luxurios, hyaluronic acid-based non-surgical cosmetic treatment that has been gaining popularity as the general trends in beauty industry started to shift towards the "au naturel" movement. While it is perfectly fine to stick to the other side of the Bottox barricade, Fillerina is a revolutionary treatment and a great alternative for those who desire to avoid the invasiveness and potential side effects associated with cosmetic surgery. Fillerina's unique formulation was designed with molecules of varying sizes that are able to get to the lower layers of the skin, resulting in a plumper, more youthful appearance of the skin and taking rejuvenation to the next level. Unlike other hyaluronic acid-based moisturisers and serums, Fillerina contains a much more potent concentration of hyaluronic acid, which boosts your skin's ability to stay hydrated and retain moisture more effectively than a regular hyaluronic acid-based product. Likewise, in comparison to hyaluronic acid-based skin-boosting injections Fillerina does not require any injections and contains 6 to 9 types of hyaluronic acid, while other similar treatments contain only 1 to 3 types. Moreover, while other similar-grade products use the same ingredients as Fillerina, the size of the hyaluronic acid molecules used in those products is predominantly large. Fillerina, on the other hand, uses varying sizes of hyaluronic acid molecules, allowing it to penetrate all levels of the skin, including the deepest ones.
Who should be using each grade?
Fillerina is a two-step kit, which comes with 3 different grades of concentration and aim to moisturize, plump and smoothen your skin. The difference is in the distribution of the different sizes of HA molecules in each grade. Grade 1 uses a higher concentration of larger molecules for plumping and hydration, minor signs of sagging, especially around the cheekbones and lips. It contains a higher percentage of larger-sized HA molecules to tackle initial ageing, is suitable for all skin types and is an ideal treatment for early signs of ageing.. Grade 2 uses a well-balanced combination of mixed-sized molecules, both small and large, and is suitable for moderately ageing skin, fine lines and wrinkles. Grade 3, however, has a higher concentration of small molecules, which are essential for accessing the deeper levels of the skin. It is best to treat very dry skin, visible loss of volume and sagging around the cheekbones, chin, and lips and is suitable for moderate or deeper wrinkles, as well as other visibly noticeable signs of ageing.
Can I mix and match different grades to treat different areas of the face and neck?
Well, the short answer is yes! Our skin has different needs, depending on the area of the skin and it is okay to mix different grades of creams and treatment in order to achieve the desired result.. While Fillerina Face Treatment was designed to have a specific goal of filling and improving the deepening of expression lines, wrinkles and other visible signs of ageing of specific areas of the face, cheekbones and oval contour, it can also be used for treating the skin around your face and, if necessary, neck.
How Fillerina works and how to use it?
Active peptides Matrifull and Hexapeptide work on the skin's hydration levels and promote gradual and progressive plumping. When applied, the skin cells on the face begin to absorb and metabolize the different molecules of hyaluronic acid , using them in order to rebuild and fill in the skin areas affected by ageing. Hyaluronic acid mixed-sized molecules are able to bind water molecules and to trigger a potent reaction, filling in and healing the skin tissue. As we've outlined above, Fillerina is a two-step treatment and comes in syringes, which contain highly concentrated Replenishing Gel and Nourishing Film. However, the syringes are not there to be used for injections! They just ensure that the portion of the administered treatment is exactly the right amount, ensuring a well-measured application. For step one, take the syringe and draw out 2mL of the Replenishing Gel and apply directly onto the specific skin area on your face that requires the filling-in treatment. Use the other syringe to draw out the Nourishing Film and apply all over the face to ensure hydration of the skin and allow the skin to retain moisture better.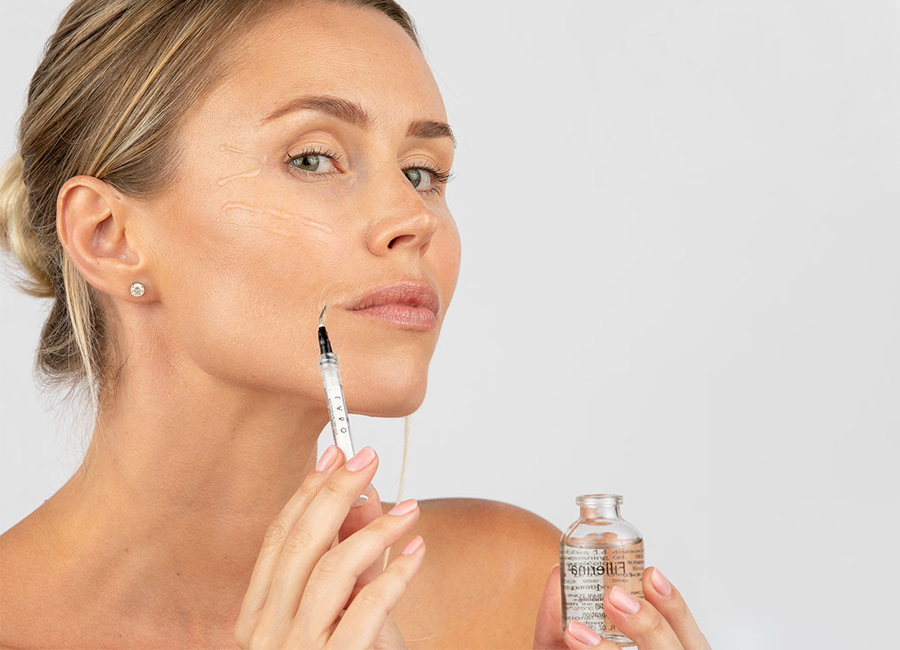 The best Fillerina products for anti-aging
Fillerina 932 Biorevitalizing Dermo-Cosmetic Filler Treatment is a revolutionary at-home treatment, which comes in 3 grades and utilises 9 different types of Hyaluronic acid, that are able to penetrate both epidermis and the dermis by filling its tissues and significantly improves skin's complexion, resulting in a radical reduction in the appearance of ageing.. This product's grades vary depending on the skin's needs and the level of ageing. Hereby, Grade 3 is most suitable for visible wrinkles, expression lines, Initial depression and depletion of the tissues as well as dull complexion and damaged skin. Grade 4 is most suitable for the deeper wrinkles, visible, marked and uneven microrelief, significant tissue depletion and thinner skin, while Grade 5 is most suitable to fill in and help reverse the most prominent signs of ageing, such as severe depression and depletion of the tissues as well as severely damaged skin, very deep wrinkles and expression lines. Fillerina 932 is a qualitatively different, non-injective treatment which produces drastic anti-ageing effects, similar to those of biorevitalizing treatments that are performed via injections. It gently hydrates and nourishes your skin, while lifting mild to prominent signs of ageing and revitalises the skin, giving it a radiant, glowing appearance.
Another great product by Fillerina that you should try out is Eyes and Lips Contour Cream, which is a gentle eye and lip care treatment that was specifically designed to effectively tackle fine lines and wrinkles around the eye area and lips. Just like other treatments, Fillerina Eyes and Lips Contour Cream comes in 3 grades, wherein each grade is different from the other in the proportion of smaller- to larger- sized hyaluronic acid molecules and different concentration of active ingredients. While Grade 1 is suitable for minor to moderate wrinkling and sagging around the eyes and lips area and utilises a high concentration of large-sized hyaluronic acid molecules, Grade 2 contains a balanced blend of both larger and smaller hyaluronic acid molecules and is ideal for treatment of more noticeable wrinkles, fine lines as well as loss of moisture and volume around the eyes and lips area. Last but not least, Grade 3 effectively tackles most prominent signs of ageing in the skin around your lips and eyes as it contains both highest concentration of active ingredients and highest amount of smaller-sized hyaluronic acid molecules. It is most suitable to treat very deep wrinkles and tissue depletion of the skin around your eyes and lip and is ideal for mature skin.
How long do the results last? How often is it advisable to repeat the process throughout the year?
In order to achieve visible results, Fillerina filling treatment must be used every day for the duration of 14 days. Unfortunately, the amazing results of this treatment are temprorary, just like any other cosmetic treatment and need to be repeated every 3-4 months in order to maintain and prolong the anti-ageing effects of the treatment.
Should I apply the treatment in the morning or evening? At what age you should start using Fillerina?
It is advised to apply Filllerina both in the morning and in the evening for the achievement of best results. However, even though it is okay to use other facials creams when undergoing Fillerina treatment, experts recommend to refrain from using another night cream during the 14-day treatment as night creams can often use retinol and have quite a potent formulation for the delivery of best results overnight and all might be too aggressive for your skin when undergoing the treatment. Moreover, it is also advised to avoid using retinol-based products as they might interfere with the results of the treatment. Fillerina facial treatment's main purpose is accessing the deeper layers of the skin in order to lift and aid in reversal of ageing processes, which is why the treatment is recommended for those people, who already started exhibiting visible signs of ageing. While it is hard to identify at what exact age you should start using Fillerina, the approximate estimation of when the ageing processes become visible is around your late twenties, which means that it is best to begin Fillerina treatments around the age of 25-30, when your body's growth and natural processes begin to slow down resulting in hormonal changes, lower levels of collagen production and loss of moisture.