As we age, we begin to see the dreaded signs appear at the corner of our eyes or the areas around our mouth. Wrinkles and fine lines settle into the skin, signs which we all desperately want to eradicate. The treatments available in the market, however, could be unattainable due to its high cost, or simply unattractive due to the involvement of needles. Yet the brand Fillerina have managed to resolve both the aforementioned problems above, making their one-of-a-kind, high quality products possible for the average consumer.
What is Fillerina Skincare?
Fillerina Skincare is a brand that prioritises filling treatments that does not require needles, thus making it attractive to people with trypnaphobia. Filled with different molecular weights and sizes of hyaluronic acid, this allows their filling treatment to penetrate into the deeper layers of the skin, allowing for the plumping of the skin. Issues such as crow's feet, sagging skin, and deep wrinkles are capable of being addressed through diligent use of Fillerina's products.
Why Fillerina is the best anti-wrinkle skincare in the market?
Unlike other products claiming to target the signs of aging, Fillerina's filler treatments work at a deeper level, in contrast to other topical anti-aging products. Designed to be non-invasive and safe for use, customers no longer need to visit the nearest clinic as Fillerina's filler treatment is crafted for at-home use. Filled with various molecular sizes of hyaluronic acid and other nourishing ingredients, daily use for the period of 2 weeks will ensure drastic improvements to your skin.
Fillerina Skincare Collection:
• The best anti-aging serums: Offered in three different grades based on the severity of the wrinkles, Fillerina's filler treatment comes with a gel filler and a nourishing film to fill in the fine lines and wrinkles on your face. Using different variations of hyaluronic acid allows water to be drawn to the skin in order to plump up fine lines and sagging skin. It is intended to be used daily for 2 weeks to see the best results.
• The best anti-wrinkle moisturisers: Fillerina formulates both day and night creams, also offered in three different grades, like their serums. Containing hyaluronic acid and other peptides, the Fillerina Day Cream is recommended to be applied to cleansed skin after drinking two glasses of water. On the other hand, the Fillerina Night Cream has rosehip seed oil and shea butter in its formulation, making it thicker than its counterpart. Using both creams daily for 2 weeks will ensure drastic results.
• Eye & Lip Care anti-aging skincare: Fillerina's eye and lip care products come in both serum and cream formulations. Fillerina's Lip and Mouth Treatment is a gel-serum intended for a full month's daily use, filled with collagen and hyaluronic acid. Meanwhile, their Eyes and Lip Contour Cream filled with high quality, active peptides and six sizes of hyaluronic acid.
• The Fillerina Skin Conditions Kits: Again, offered from grades 3-5, this kit not only contains two serums, but also a Fillerina Skin Preparatory Cleanser and cleansing brush to be used before application of serums. This Skin Condition Kit is special due to its combining of two powerhouse treatments for maximum efficacy: a filling treatment and a biorevitalising treatment. The former contains their signature variation of hyaluronic acid sizes to plump the skin and fill in fine lines, while the latter stimulates cell regeneration in the skin in order to brighten and smooth out one's complexion.
How do you use Fillerina?
In order to use their signature Dermo-Cosmetic Filler Treatment, one must first gauge the severity of aging on one's skin. This treatment comes in grades 1 to 3, wherein grade 3 is intended for those with deep wrinkles and severe fine lines. Since this treatment was created to not involve needles, the latter has been replaced by precision applicators that are meant to be non-invasive to the skin. 2ml of gel filler simply needs to be applied topically to the skin and left there for a duration of ten minutes. Once the latter is fully absorbed, apply the nourishing film over the entirety of the face. This treatment is intended to be used for 2 weeks daily in order to see its full effect and achieve drastic improvements to the wrinkles in the skin.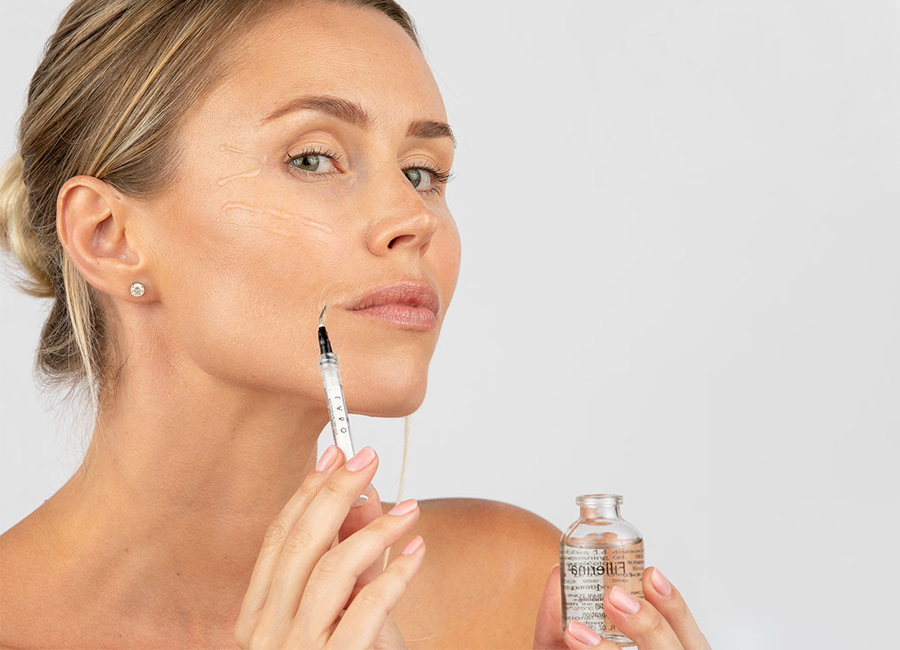 What are the ingredients in Fillerina?
As mentioned before, Fillerina is known to use different variations in size and molecular weights of hyaluronic acid, in order to penetrate below the epidermis and volumize the tissues. The smallest size of hyaluronic acid is usually found and done through injections, but Fillerina has made it possible to include it within their formulations. In addition, Fillerina also contains various active peptides in their ingredients, most notable being matrifull and hexapeptide. These two ingredients are included to maximise hydration levels in the skin. Hexapeptide in particular is normally found within injectables, as it works similarly to hyaluronic acid, meaning that it draws water to the skin to plump it up. Different molecular weights of collagen molecules are included in the Fillerina 932 Biorevitalising Dermo-Cosmetic Filler Treatment, in order to penetrate into the deepest layers of the skin. Elastin is also part of the Fillerina 932 formulation, included in different molecular weights as well, in order to improve the skin's elasticity and suppleness, and to fully penetrate into the deeper layers of the skin.
How long does Fillerina last?
When it comes to Fillerina's Dermo-Cosmetic Filler Treatment, after full 2-week use the results last around three to four months. However, for best results, it is better to continue use of this treatment when the product still remains in the skin rather than restart the process all over again. On the other hand, Fillerina's Lip Volume Treatment's results lasts for similarly three to four months after daily one month use. It is recommended by Fillerina themselves that it is advised to continue this treatment for as close to three times a year in order to maintain results and not return to square one.
Author: Charlene M Teressa