About Endocare skincare range and Cantabria Labs
Endocare is one of the most advanced skincare brands by Cantabria Labs – skincare company started by Dr. Rafael Abad with a focus on repairing, regenerative skincare.
Dr. Abad's background as a radiotherapist, with experience treating patients with severe burns during radiation treatment, has definitely lent well in understanding which ingredients function best for optimum healing and skin restoration.
Following various studies, Dr Abad discovered that cryptomphalus aspersa secretion, also known as snail secretion filtrate, had regenerative abilities on patients suffering with damaged skin.
Thus the Cantabria Labs skincare line began, with cryptomphalus aspersa as its star ingredient.
Endocare skincare range was developed by Cantabria Labs focusing on smoothing uneven skin texture and reducing fine lines.
Endocare is particularly noteworthy for its variety of potent ingredient combinations with scientific investigations backing the benefit of these ingredients, two of which I will focus on:
SCA Growth Factor Technology and EDAFENCE
Endocare skincare range was developed by Cantabria Labs focusing on smoothing uneven skin texture and reducing fine lines.
Endocare skincare patented Technologies
Endocare is an advanced, clinically proven skincare line and this is primarily due to its innovative use of technology such as the inclusion of SCA Biorepair Technology which is a snail derived growth factor which promotes cell turnover and regeneration.
The Endocare line contains a combination of cryptomphalus aspersa (snail secretion derivative) and Fibroblast Growth Factors (FGF). FGF is a potent protein that has been scientifically proven to promote fibroblast proliferation, essentially known for wound healing and tissue repair.
FGF in Endocare products functions on a deeper skin level to encourage the multiplication of fibroblasts, increasing granulation tissue to fill up the wound or scar area in the early stages of the wound healing process.
EDAFENCE Technology functions to reduce skin damage from external environmental aggressors, the biggest and most well-known being the sun.
Products in the Endocare line feature a specific ingredient: Deschampsia antarctica, which survives in the extreme conditions of Antarctica and has developed its own defence mechanisms against environmental aggressors on a molecular level, this function has been replicated within EDAFENCE products so they work within the deeper layer of the skin to protect against urban air pollutants and improve the skincare barrier.
IFC CAF Technology was formed to combat the consequences of ageing in the skin. IFC CAF was formed from the extraction of gastropod eggs which are bountiful in stem cell activator growth factors, this means that they activate cell rejuvenation especially for those with sun damaged and or ageing skin.
Further it slows down dermal density loss through the promotion of collagen production, encouraging cell turnover and plumping/increasing the skin's density.
The combination of the patent technologies utilised within Endocare products function in varying ways in order to protect and restore the skin. Technologies such as EDAFENCE function to protect the skin against environmental ageing factors and IFC CAF and SCA Biorepair Technology function to promote new cell growth, repairing already damaged skin.
Thus Endocare products work both as preventatives and correctives.
Technologies such as EDAFENCE function to protect the skin against environmental ageing factors and IFC CAF and SCA Biorepair Technology function to promote new cell growth, repairing already damaged skin.
Endocare diverse skincare product range
Here I will mention a few products in the Endocare skincare range and analyse which skin types and issues they would be most beneficial for.
Apart from the usual ingredients in Endocare products like SCA Biorepair Technology, this eye cream contains anti-ageing technologies such as Retinsphere technology with a combination of vitamin A form to promote cellular growth and turnover.
Additionally, it contains hyaluronic acid and derivatives of vitamin C and E.
The combination of these ingredients functions so that the skin retains moisture through the inclusion of hyaluronic acid and vitamin E and further to brighten the under eye areas through the ingredient, vitamin C.
Therefore for those suffering with under eye circles and fine lines, this product could be a useful addition to your night skincare routine.
I suggest night skincare routine as Retinosphere Technology (a form of retinol) can make the skin more sensitive to the sun and thus cause some irritation to the skin.
This serum not only contains 10% SCA Technology, i.e: snail secretion filtrate which promotes cell rejuvenation and thus makes it great for those suffering from acne scars, uneven skin texture or other forms of damaged skin.
Additionally, this serum combines SCA Technology with 10% Vitamin C, another ingredient which acts as a protective barrier for the skin against pesky free radicals from UV rays.
Therefore this serum is great again, like other products in the Endocare line, to protect the skin against further environmental damage which can cause premature ageing and dull skin, but also functions to repair and reduce the visibility of skin issues such as fine lines and hyperpigmentation.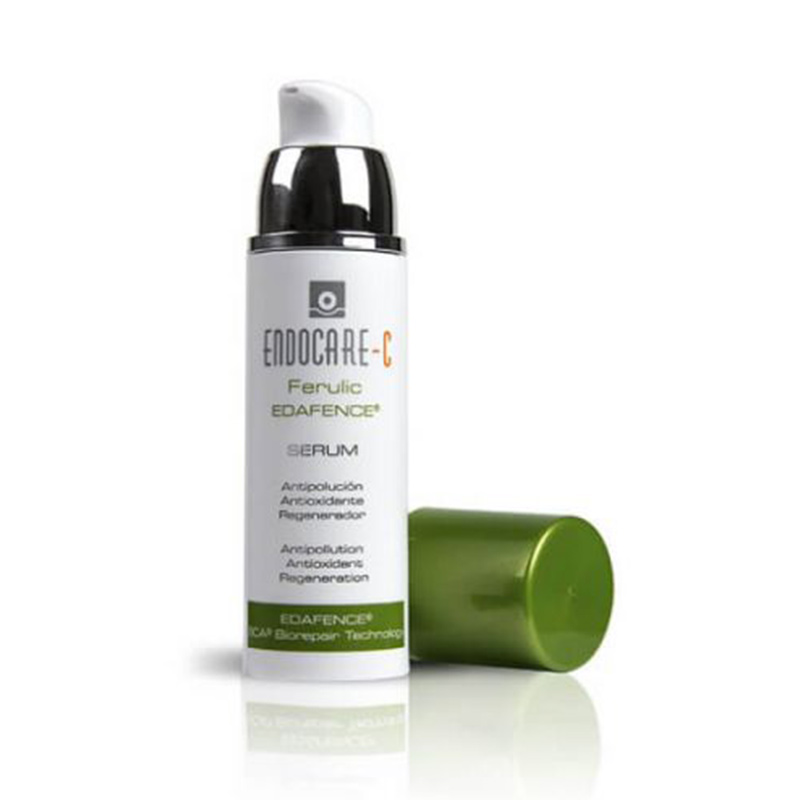 Ingredients focus Endocare skincare range:
As I mentioned above, the Endocare skincare by Cantabria Labs focuses on anti-ageing, reparative products and here I will discuss some of their key ingredients and how they benefit the skin.
Ferulic Acid:
Ferulic Acid features in Endocare's C Ferulic Edafence Serum and is an antioxidant which supports the skin in fighting free-radical damage, one of the biggest causes of ageing skin. It works together with vitamin C as a stabiliser and further has the ability to minimise the amount of sun damage to the skin through what is commonly known as photoprotection.
Snail Secretion Filtrate:
Snail secretion is a star ingredient becoming more widely advertised and known in recent years in the skincare world, and for very good reason. Through various scientific investigations and studies testing cryptomphalus aspersa, it has become known for its anti-photoageing and wound healing properties.
Ascorbic Acid:
Ascorbic Acid is a vitamin C derivative and another antioxidant which can be suitable for all skin types and especially those who are suffering from fine lines and uneven skin tone due to acne scarring or sun damage.
Not only does it protect against harmful UV rays (and therefore working perfectly as a serum in the morning before applying sunscreen) it also promotes collagen production. This collagen production therefore aids in producing fresh, new skin and fade age/sun spots.
There have also been studies which suggest vitamin C has the ability to thicken the dermis, the second layer of skin which supports the skin in thermoregulation i.e enabling the body to maintain a steady core temperature.
Retinol:
Multiple products in the Endocare line feature retinol, also known as vitamin A, and is a star ingredient known for its anti ageing capabilities.
Retinol is suitable for most skin types, although sensitive skin types may want to start with a low percentage product such as 0.1% retinol containing product when introducing it to your skincare routine to avoid irritation.
For sensitive skin types it is recommended to begin by incorporating a retinol 2 to 3 times a week so the skin can get used to retinol and build tolerance.
However, the benefits of retinol are abundant. Retinol can be used by all age types not only as a treatment for anti-ageing.
This is due to the fact that retinol is known to increase collagen production and cell turnover, thus those who are suffering from post-inflammatory hyperpigmentation, acne scarring, uneven skin tone and sun damage, can also benefit from adding this ingredient into your skincare routine.
It promotes the regeneration of skin and consequently can help in fading scaring and evening out skin tone over time.
Overview on Endocare skincare:
As you can see, Endocare is a brand with a range of products to promote healthy skin rejuvenation and turnover.
More specifically, if you are struggling with skin conditions such as fine lines, wrinkles, sun damage, uneven skin tone and scarring, then I would recommend checking out the Dermoi.com shop to see the full Endocare range available and hopefully find a product which can be easily added to your skincare routine.
Endocare is a brand within the beauty industry with a great range due to the fact that the products not only work to improve the epidermal, aesthetic appearance of the skin.
But also utilised scientific research to products which work in the deeper layers of the skin with complex technologies previously mentioned, in order to aid the skin in reducing skin damage and producing healthy, new skin, from the interior outward.