More often than not, the term 'facial peel' evokes a sense of uncertainty in many people. We sometimes think of abrasive acids, painful procedures and costly price tags. However, this is not the case at all. Facial peels are becoming some of the most popular treatments in the beauty industry and are praised for their wealth of benefits. In this article, we will be exploring a variety of facial treatments available on the market and giving you advice on which treatment would suit you best.
What is a chemical peel?
In simple terms, a chemical peel is a type of facial treatment used to improve the overall quality and texture of a person's skin. This treatment commonly uses acids like retinol, AHAs, BHAs or carbolic acid, to break down the upper layer of damaged skin and help to reduce the appearance of fine lines and wrinkles. Interestingly enough, chemical peels are not a new form of treatment, in fact, they go way back to the Ancient Egyptian period. During this time, many Egyptians would use sour milk, which of course contains lactic acid, to help revitalise their skin.
Types of facial peels: Difference between iS Clinical and PCA Skin
Currently at Dermoi we offer two types of facial peels. The first is the 'iS Clinical Glow/Anti-Aging Peel' from iS Clinical, which is available for £115.00. This particular type of treatment uses a wide range of iS Clinical's botanically derived products, to help stimulate your skin's cell renewal process, leaving you with tighter and firmer skin almost instantly. Moreover, this facial peel utilises an array of high-quality techniques, such as lymphatic massage, which helps to boost circulation and improve your overall immune system, which is perfect for these unsettling times. The unique aspect of this treatment is that it requires no downtime, meaning you can see the beneficial results straight away and do not have to wait for the skin to restore itself.
The second facial peel is the 'PCA Bespoke Signature Peel' from PCA Skin, currently available for £135.00. This is a more advanced treatment which makes use of galvanic technology, ultrasound stimulation, LED light therapy and lymphatic drainage, to boost circulation and tighten facial muscles. As a result, you will receive younger-looking skin and a clearer complexion. Adding on to this, the 'PCA Bespoke Signature Peel' is perfect for reducing the sight of acne scars and other forms of hyperpigmentation.
What does a chemical peel do?
As mentioned previously, chemical peels use acids to remove the top superficial layers of damaged skin from your face, allowing new and healthier skin to form again. Chemical peels can come in three different intensities: light, medium and deep.
Light chemical peels remove the outer layer of the skin, also known as the epidermis. This is usually considered quite a mild treatment and is used to treat subtle acne breakouts and reduce the visible signs of ageing.
Medium Chemical Peels are a slightly more intense form of facial treatment. This is because the ingredients used to penetrate deeper into the skin and tackle the dermis, which is the middle layer of your skin. These types of facial peels are usually able to smooth out uneven skin tones and help to remove acne scars.
Finally, a deep chemical peel is considered a one-time treatment due to its use of potent and powerful products. This treatment penetrates into both the epidermis and dermis, helping to treat deep wrinkles, prominent scarring and even in some cases, precancerous growths.
How to stop peeling skin?
Peeling skin is usually the result of abrasive sun damage and can result in more serious skin conditions if left to get any worse. When our skin is exposed to harmful UV rays without any protection, our skin loses essential moisture and oils, making it appear flaky, dry and inflamed. Here are some tips on how to heal sun damage and avoid peeling skin:
Firstly, try using aloe vera as an effective moisturiser. There are a variety of aloe vera products on the market, including aloe vera gels, creams or even the plant itself, which all help to nourish damaged skin. Aloe vera contains soothing properties which help to physically cool the skin and reduce inflammation. As a result, this helps to further calm the skin and slow down the degenerative peeling process.
It is also advised that you take short lukewarm showers or baths to help prevent any further damage to the skin. Again, this helps to cool the skin and gradually add moisture back into the body. Furthermore, by avoiding hot water, you are giving your skin more time to heal effectively.
Moreover, dermatologists offer guidance which says that you should not use products that can dry out the skin when managing sun damage. This includes perfumed soap, antibacterial products or products containing alcohol. This is because these products are often abrasive or irritants to damaged skin, which can cause further harm and sensitivity.
Who should get a facial peel?
Facial peels can be used by anyone who feels that their skin is in need of restoration and rejuvenation. However, it must be noted that these treatments can do wonders for those with more difficult skin conditions. For example, a majority of facial treatments make use of exfoliation techniques and suitable products, to help clear our clogged pores. As a result, this helps to prevent harsh acne breakouts and stimulate collagen production, which helps to create more youthful-looking skin.
It must be noted that a majority of facial peels are not suitable for pregnant women, so make sure to check if a specific facial peel is suitable and safe for you.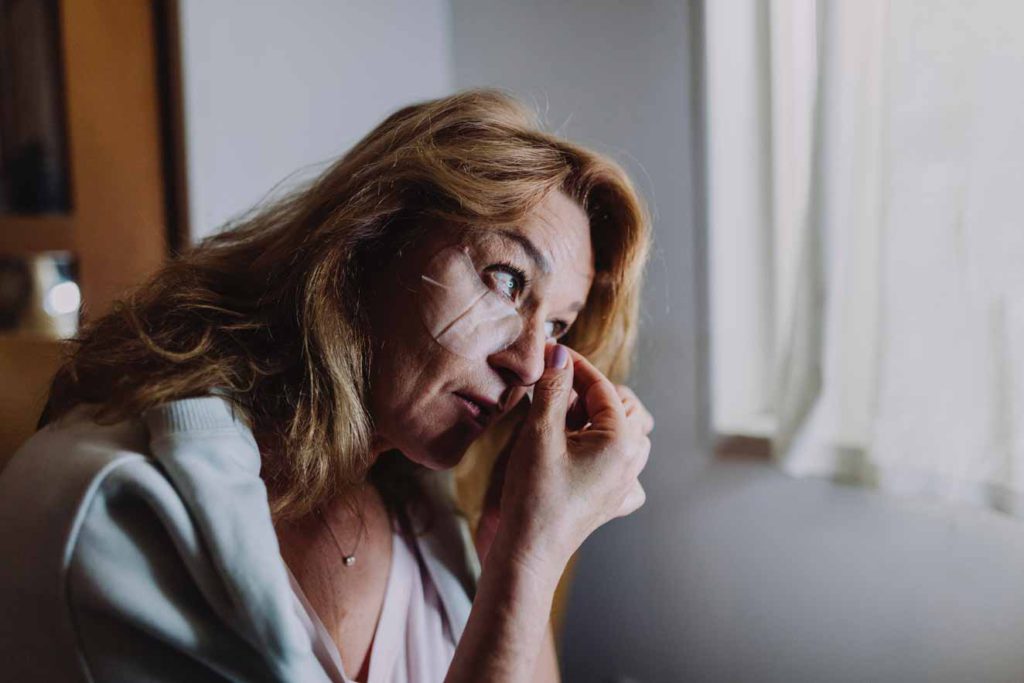 Results: Chemical peel before and after
At Dermoi, our facial peels are designed to make you feel and your best and help to nourish your skin effectively. The 'iS Clinical Glow/Anti-Ageing Peel' is praised for its long-lasting results and clients are amazed by how fresh and rejuvenated their skin feels. Adding on to this, the 'PCA Bespoke Facial Peel' is praised for its diverse use of products and the knowledgeable nature of each therapist. Not to mention, these treatments can be carried out in the comfort of your own home, allowing you to feel relaxed enough to truly enjoy the treatments. Our merits are boasted by many of our clients, but why not book an at-home facial treatment for yourself and test out the results?
How long do chemical peels last?
On average, it is advised that you undergo a chemical peel every 4-6 weeks, to help keep up with your skin's lifecycle and ensure that your skin is fully prepared for its next renewal process. The lasting effects of a chemical peel truly depend on its intensity and the type of chemical peel that you received. For example, the effects of a light chemical peel last for around 1-2 months, whereas a medium chemical peel lasts for around 2-6 months. However, because a deep chemical peel is so intense, it can only be done once, making its effects last for up to a year.
Now that we have explored the world of facial peels, hopefully, they do not seem so daunting. Chemical peels are a fantastic way to renew your skin and help remove the layers of damage that have built up over time. They are applicable to a variety of skin conditions, including acne and ageing, making them perfect for almost every skin type. If you feel that your skin needs a kickstart in the right direction, check out some of our at-home treatments, available on the Dermoi! website.