It can be tricky to find the right facial treatment for your skin and finding a great aesthetician to administer it is important. In this blog, find out what to look for when choosing an aesthetician, as well as how to find the perfect facial for your skin.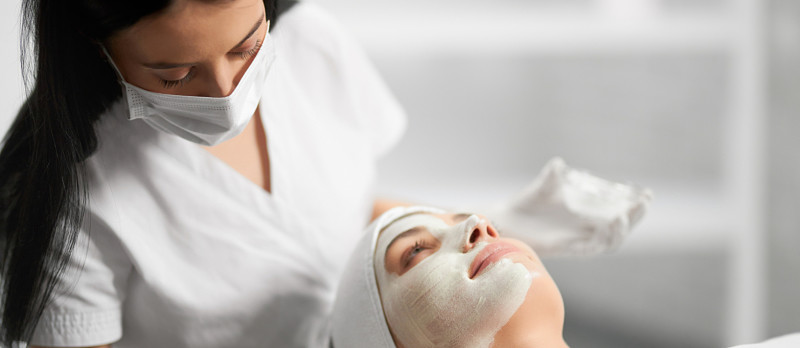 What Is an Aesthetician?
An aesthetician is a trained professional who provides specialised skin treatments. They usually work in a salon or spa and focus on facial treatments. Here at Dermoi our aestheticians will treat you from the comfort of your own home. Say goodbye to that 'Aesthetician near me' Google search!
Medical aestheticians will have a broad knowledge of skin care products and skin types. This is in addition to their specialised knowledge of skin care treatments. Resultantly, they'll be able to recommend an effective at-home skin care regime based on your skin types and concerns.
Why Get a Skin Treatment?
Many people use facial skin treatments as a relaxing procedure, in a similar way to a massage. They are also used to treat common skin complaints, including rosacea, acne and eczema.
Depending on your selected treatment, there can be many positive benefits from receiving a skin treatment. Benefits include: anti-aging, treating dry skin and acne scars, as well as reversing sun damage.
5 Things to Search for in an Aesthetician When Booking a Skin Treatment
1. The Ability to Accurately Assess Your Skin and Identify Skin Conditions
Whilst aestheticians aren't usually qualified to diagnose skin conditions, they must be able to accurately recognise the symptoms. 
Let's look at acne for example. The aesthetician needs to be able to accurately identify acne symptoms in order to avoid aggravating the skin complaint. They will then be able to tailor your skin treatment to provide the best results for your skin. Identifying skin problems also allows them to recommend the most effective follow-up skin care products.
2. Good Knowledge of Active Ingredients and How They Work
Aestheticians need to be clued up about what each active ingredient does. This is essential in preventing any type of skin damage. It's also vital as skin treatments involve the mixing of many different ingredients. For example, an ingredient that can make skin temporarily sensitive should never be followed by a harsh chemical exfoliator. 
An example of this is the use of retinol to treat aging skin. Retinol has a variety of anti-aging effects. It has become a popular ingredient to target wrinkles, large pores and uneven skin texture. Due to its harsh nature however, retinol can cause redness, itchiness and dry flaky skin. 
It is vital that aestheticians are aware of such side effects in order to minimise damaging effects. This also helps avoid aggravating the skin and allows them to provide effective aftercare.
Aestheticians also need to be aware of makeup application following treatments. Some facials require recovery downtime to avoid causing damage. This means that applying foundation and eye makeup may temporarily be a no-go.
3. Knowledge and Experience of Lifestyle Factors Involved in Skin Conditions
Lifestyles factors have as much of an effect on skin health as skin care products. Sun exposure, smoking, alcohol consumption, stress, diet and external pollution all have damaging effects on the skin. All of the previous factors contribute to premature skin aging. Sun protection is one of the best ways to preserve your skin, alongside treatments. Sun damage is one of the harshest environmental aggressors and in extreme cases can cause skin cancer.
It is vital that aestheticians are aware of a client's lifestyle factors in order to provide the most effective treatment. This is especially important when dealing with long-term skin conditions, such as rosacea and eczema. With existing conditions, there's a high chance that lifestyle factors are worsening symptoms.
4. Experience Working in Skin Clinics
Years of experience are essential when selecting an aesthetician. It is vital that whoever is providing your treatment has had extensive experience working with different skin tones, skin types and textures. Everyone's skin is different and each treatment should be tailored to cater for your skin type.
5. Knowledgable Enough That They Won't Overdo It
Aestheticians should be aware of the affects of each treatment, product used, and active ingredients. 
For example, chemical peels can be highly aggravating to the skin and need to be used in a limited capacity. There are different types of chemical peels but an aesthetician shouldn't recommend multiple peels in a short period of time.
The Treatments on Offer at Dermoi
Dermoi offer two facial treatments at home that will restore skin health with long-lasting results. All of our treatments are uniquely tailored to your skin type and concerns. Your aesthetician will give you an in-depth consultation about your lifestyle and nutritional intake to better understand and treat your skin.
This chemical peel uses PCA Skin formulations for a potent exfoliation without damaging the skin barrier like other peels. The brand incorporates OmniSomes, a patented version of liposomes, to slowly release active ingredients over ten hours for deeper penetration.
This facial treatment includes a vitamin A blend containing 10.5% of retinoid. This helps brighten your skin and reverse the visible signs of aging. It's ideal for oily skin. This treatment has been scientifically researched to deliver the best results, without diminishing the surface of the skin.
Osmosis Beauty has been selected for this treatment as a result of their advanced liposomal technology. This helps the active ingredients penetrate deeper into the skin for greater results.
The vitamin infusion facial treats the root causes of premature aging, with actives including vitamin C, hyaluronic acid, niacinamide, and more. It can be used to treat a range of skin conditions, including aging and dry skin.
Get your first facial free with Dermoi here.